How Aptera partnered with Crank's Professional Services to get their solar-powered vehicle to market in less than a year
From research to development to marketing, today's automotive landscape is driven by efficiency. As the world's vehicles become more fuel efficient, so too do the engineering efforts behind them, delivering advances in technologies and features in timelines fast enough to satisfy a very competitive marketplace.
To get an early foothold in the rapidly growing electric vehicle (EV) market, Aptera Motors turned to Crank's Professional Services team and the Storyboard platform to develop a human-machine interface (HMI) focused on efficiency.
Efficiency took on two forms for this project. First, the HMI was designed to help drivers maximize the range of the Aptera solar electric vehicle (sEV). Second, the HMI application was developed using parallel workflow techniques that allowed for rapid prototyping and testing that enabled the company to go to market in less than a year.
How Crank's Professional Services fast tracked HMI development
With only six to eight weeks planned for the development of the automotive HMI, Crank's Professional Services team worked closely with Aptera to streamline efforts. The goal was to build an embedded touchscreen in the vehicle's center console with a UX design that highlighted Aptera's innovative features and thrilled drivers.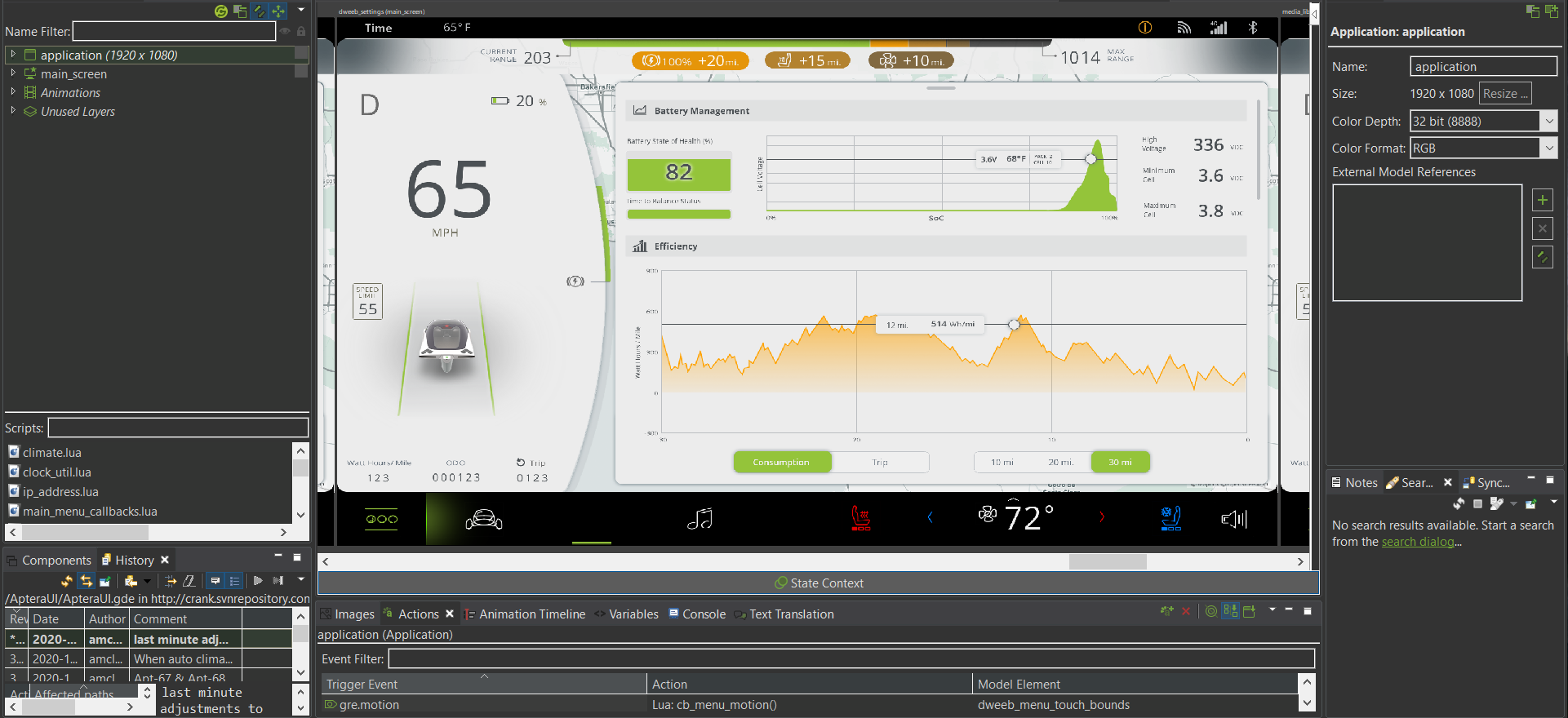 Aptera Battery Management Screen layout in Storyboard
The Professional Services team augmented Aptera's engineering staff with the UX and HMI development expertise necessary to transform requirements into real design assets and executable code on the target platform, an NXP-based Toradex i.MX8 quad-core processor. The combined team used Crank Storyboard's unique designer-developer workflow to parallelize what traditional automotive OEMs normally do in sequence:
Create regular HMI prototypes to get feedback on behavior and visuals earlier in the development cycle
Incorporate design changes frequently while working on backend integration code
Deploy, test, and optimize the HMI application on the Toradex target as early as possible, to avoid costly changes later
"Crank has an amazing support mechanism in place. "They want their customers to succeed, and they're willing to assign resources to work with you throughout the process. I know with other commercial HMI software tools you may not get that type of support." – Brian Gallagher, Team lead HMI development, Aptera
Further reading on the automotive HMI project
Chris Anthony, CEO at Aptera Motors, and Brian Edmond, co-founder and president of Crank Software, discuss this project in more detail in this interview with Today's eMobility Magazine.
To learn more about this exciting automotive HMI project, read our in-depth case study:
How Aptera brought the world's most efficient electric vehicle to market in <1 year