3D elements add movement, dimension, and life to embedded applications. Aesthetics aside, they also enhance user experience and improve findability of information with a visual perspective that 2D graphics lack. As processors and GPUs evolve, embedded applications are becoming richer and 3D content more prevalent.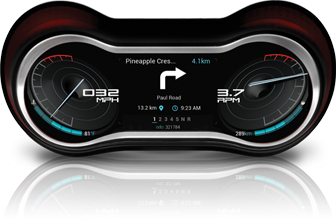 We developed features for Storyboard Suite and a workflow that supports 3D artists, with the following in mind:
Most designers already have 3D design tools that they are comfortable with and use regularly
Designers want to be able to update their models in their 3D design software and easily re-add them to their project
Designers may want to do minor tweaks to their 3D content in Storyboard after they've incorporated it into their application
Import FBX 3D models in Storyboard
With FBX 3D model import functionality, Storyboard allows designers to work in popular 3D design software that they already have familiarity with and can work efficiently in. A widely adopted industry standard, FBX models are imported into Storyboard with animations, textures, lighting, and other properties that make up the 3D model. The model isn't static after the import. Designers can tweak the animations and make adjustments to fit their application.
Iterate until perfect
Iteration is a major part of UI design, and 3D content is no exception. Using the built-in simulator in Storyboard, designers can test their application with the imported 3D content and determine what changes need to be made to the underlying model. Updated models can be iteratively imported back into the Storyboard project until the team is happy with the final 3D content.
Change lighting and camera angles
When the designer is happy with the 3D model, they might want to make some tweaks and adjustments to things like animations, camera angles, and lighting to adjust how it behaves in the Storyboard application. These properties can be refined directly in Storyboard Designer, making it easy to create a well-integrated 3D/2D user experience.
Meet Ahren, a Crank Software 3D Designer
Ahren is a 3D designer here at Crank, working on Storyboard Suite applications that span automotive, medical, home automation, and other cool markets. Ahren chooses to work in Autodesk 3DS Max because it's a tool he's invested a lot of hours in, which means he can work in it efficiently and confidently. Having FBX 3D model support in Storyboard optimizes Ahren's workflow. "It's quick and easy to import. I can test the 3D content in Storyboard and update the model as needed. Textures, materials, and animations are all baked into the model which means the behavior is the same in the Storyboard application. I can also tweak lighting and camera angles directly in Storyboard until I am happy with it."
Learn more about working with FBX 3D models in Storyboard from Fancy Dan in this awesome demo video.
If you aren't using Storyboard yet, download a free 30-day trial and test-drive the functionality you learned about in this post.