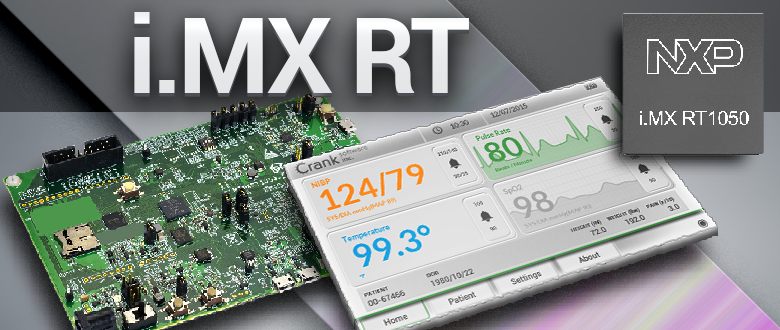 Late last year, NXP announced the i.MX RT Series, a crossover processor that is optimized for low power and high performance. Built for efficiency, cost-effectiveness, and lower power usage, the i.MX RT Series doesn't compromise on what's important to end users; high-performance, usability, advanced multimedia, and impressive graphics. This series fills a gap and hits a sweet spot that offers the best of both the MCU and application processor worlds to provide an excellent platform option for medical device user interfaces, IoT, building/home automation, and smart appliance applications.
Helpful resources to get you started with embedded GUI development for the RT1050
Check out the following resources to understand more about building applications for NXP RT1050 platforms.
Demo images: We've been building up our inventory of NXP demo images to make it fast and simple for you to see applications on your i.MX RT1050 platforms with both uClinux and FreeRTOS variants. Download them and try them out!
On-demand webinar: In addition to demo images, we also have an on-demand i.MX1050 webinar, "Delivering performance, functionality, and stunning design to embedded products" available that we hosted with NXP.
EmCraft demo: Our friends at EmCraft Systems created a short demo built with Storyboard and instructions for quickly installing it to an NXP i.MX RT1050 EVK board.
Haven't tried Storyboard Suite yet? Download our full-featured 30-day FREE trial today, and test drive it for your embedded UI development.