Even though Embedded World 2023 ended last week, the conversations surrounding it are still going strong. As Mason Cooley once said, "An event is not over until everyone is tired of talking about it," and it's clear that the Embedded World will continue to be a topic of discussion for quite some time.
In this article, we bring you the highlights from the Crank AMETEK booth at Embedded World 2023.
As the demand for intuitive and engaging user interfaces continues to grow in the embedded space, Crank remains at the forefront of GUI development, providing cutting-edge solutions enabling companies and brands to create sophisticated and visually appealing user interfaces. With the aim of revolutionizing how graphical user interfaces are designed and developed for connected and resource-constrained devices, Crank recently attended the Embedded World Exhibition and Conference, one of the largest conferences focused on Embedded System Technologies, Distributed Intelligence, and the Internet of Things (IoT) worldwide. The event took place in Nuremberg, Germany, from March 14th to March 16th and brought together more than 700 exhibitors and thousands of visitors worldwide.
The team was amazed by the high level of attendance and engagement from attendees at the event. The interactive demos and displays drew many visitors to our booth, and they were eager to learn more about the company's solutions and services. The team answered a wide range of questions and provided guidance to developers and engineers looking to improve their GUI design and development processes.
From the event, hear what our partners have to say
Logic Technology, an authorized distributor of Crank AMETEK, leverages Crank's embedded GUI development tool, Storyboard, to help accelerate the development of customer prototypes and products.
Powered by Crank's embedded GUI development tool, Storyboard, Maro was able to easily fine-tune the UI/UX to encompass the elements that were of particular importance as highlighted during countless customer discussions and product interactions.
Key highlights from the latest product releases
The key highlight for many that stopped by the booth was the sneak at our upcoming release of Storyboard 8.0 and our new automated testing framework, Validator. The new release includes features and improvements, including a streamlined workspace experience, support for a new scripting action type (apart from Lua), an integrated GUI testing framework for Storyboard-built GUI applications, plus many more. These enhancements not only make GUI development faster, easier, and more efficient but makes it possible for companies to unleash the full potential of their embedded GUI application experiences.
For example, Storyboard's new streamlined Designer workflow helps accelerate GUI development, the introduction of new scripting language expands your ability to attach actions and events to design assets, and Validator makes it easy to create and execute tests across MPU devices efficiently and catch-fix issues in the early stage, saving your time and resources.
Crank's demos at the display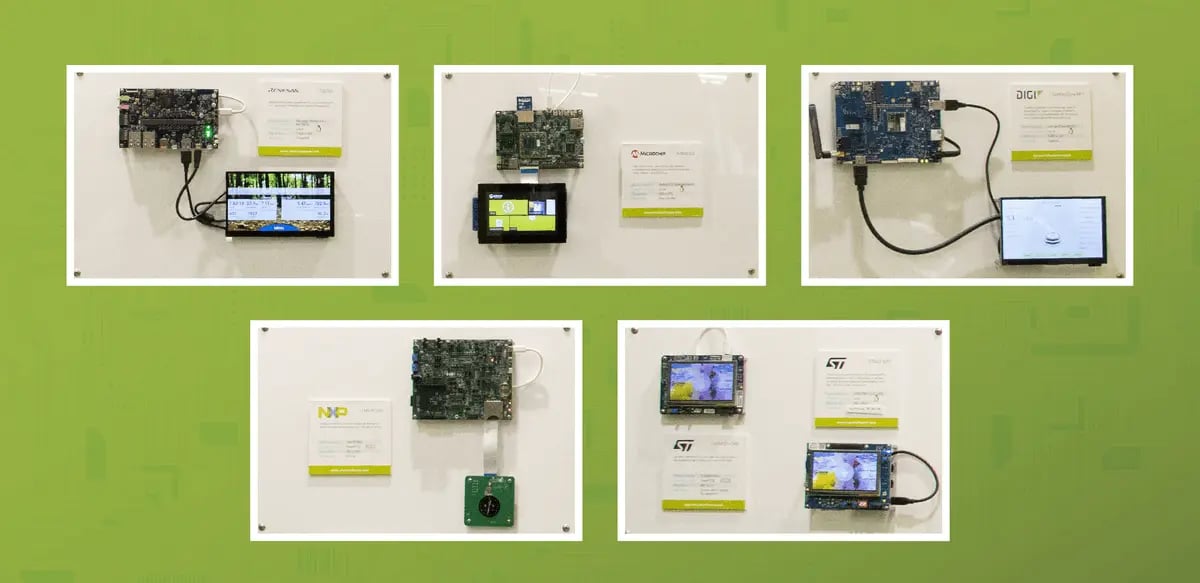 See the highlights from our booth as we displayed - smart appliance UIs, automotive UIs, and several other demos for wearables on low-power MCUs.
Our team showcased Storyboard-built demos on our technology partners' boards like the STMicroelectronics' STM32H7xx & STM32MP1, NXP's i.MX RT500 & i.MX 8M, Toradex's Colibri, Nordic Semiconductor's nRF5340, and Renesas's RZ/G2L, just to name a few.
These insightful demos showcased the ability of Storyboard to create dynamic and engaging user interfaces for a wide range of applications, from industrial control systems to consumer electronics.
Check out what our expert from the booth has to say
"Embedded World 2023 was a great success—many visitors worldwide, excellent teamwork, and tons of fun for everyone. At Crank's booth, visitors were impressed by the demos running on ultra-low power MCUs from ST to powerful processors from NXP. It was great to talk about challenges and best practices with Engineers and Designers. Through the Storyboard-built demos, embedded GUI experts were able to experience how fast and easy GUI development with Storyboard can be" said Jonathan Hoffmann, Regional Sales Manager, Europe. Our existing customers used the chance to meet with Rodney Dowdall (Head of R&D) and learn about Storyboard 8.0 and its new features. Many software engineers and designers realized how the unique and collaborative approach of Storyboard could make their development faster and easier. The visitors did not just leave with a cup of coffee and a Crank touchscreen cleaner but also with sparkling eyes. He further added.
Conclusion
Crank AMETEK's presence at Embedded World was a testament to the company's commitment to providing cutting-edge GUI development tools and solutions that help companies create engaging and intuitive user interfaces for embedded products. With the release of Storyboard 8.0, Crank AMETEK is poised to continue leading the way in the embedded systems industry, providing innovative solutions that enable companies to stay ahead of the curve and meet the evolving needs of their customers.