We've always worked hard to deliver videos that showcase Storyboard Suite features, teach tips & tricks, and provide a more in-depth look at technical functionality. Video gives us an opportunity to visually showcase Storyboard, rather than just talk about it. If a picture is worth a thousand words, a video must be worth a million? My math might be a bit off, so don't quote me on that.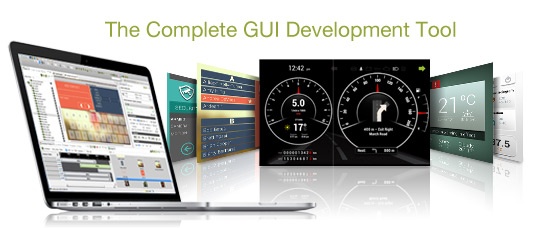 Videos are useful because they are short, concise, and don't require much time to consume, but because of this they can only begin to scratch the surface when it comes to showcasing the depth and breadth of functionality. To increase visibility into Storyboard Suite features, we've started running webinars that dive deeper and focus on different topics, capabilities and target audiences. For example, our recent webinar (now available on-demand) was geared toward designers responsible for the look and feel of the GUIs for embedded applications. We wanted to demonstrate Storyboard Suite from the perspective of the designer, so our presenter was our UI designer, Fancy Dan, who uses Storyboard daily to create embedded GUIs.
3 Reasons to check out our Storyboard Webinars
You haven't used Storyboard yet. What? We can fix this. Go ahead and download the 30-day trial, but while you are waiting for your evaluation license, check out our first webinar which provided an overview of what Storyboard is, who it's for, and why it's easy to use for GUI development. This is one of the easiest ways to learn about using Storyboard to create GUIs for embedded applications.
You like getting a sneak preview of upcoming features. We aren't secretive and we are proud to preview capabilities before a release. A lot of the functionality and features that go into each version happen because we value feedback from our customers. Webinars give us an opportunity to test drive these features before development wraps up. For example, our Storyboard Suite 4.2 sneak peek webinar provided a preview of upcoming features a couple of months before the official release. Customers were excited to see what was coming down the pipe.
You learn from demos, not slides. Demos say a lot about a product, especially when performed in real-time and unedited. We know you'll learn more about what you can do with Storyboard if you see it in use. We'll probably throw in a couple of slides for entertainment value. In a recent designer-focused webinar, our UI designer walked through his process and workflow for working in Photoshop and Storyboard to create the visual design of an embedded application, including screen transitions, animations, and design iteration.
All of our webinars are presented live, but also recorded for on-demand viewing if you miss out.
If you haven't tried Storyboard yet and some of the features in our webinars spark an interest, we provide a full-featured 30-day evaluation for you to try out Storyboard first hand.