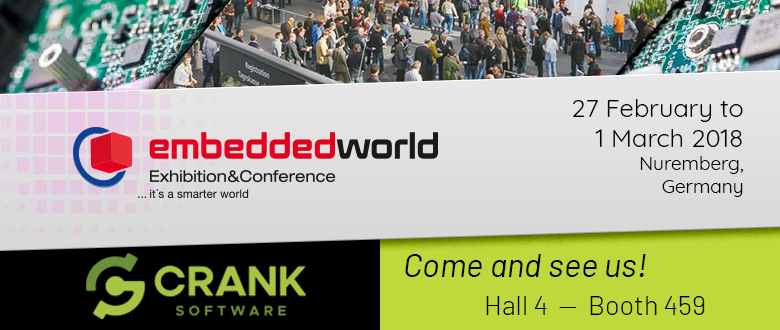 We are putting the finishing touches on the last of the demos and getting ready to head to Embedded World 2018 in Nuremberg, Germany, February 27 - March 1. This year, we will be filling our booth with embedded application UI demos built in Storyboard Suite across a number of platforms. Our UI design gurus will be on hand to showcase the latest features and capabilities in Storyboard Suite, our design-centric development framework for building beautiful UIs for embedded systems. Stop by 4-459 to say Hi! and check out the demo applications we've designed. While there, ask us to show you what's new in Storyboard Suite for designers and embedded systems developers.
Try out Storyboard GUI demos on embedded platforms
Visit our booth to see multi-market Storyboard demos on an incredible range of platforms, including:
Our UI demos cover a wide range of markets and embedded applications, including automotive, home automation, white goods, medical, and kiosk solutions. All demos have been designed and developed in Storyboard Suite, using the latest features from our upcoming 5.2 release.
You'll also find Storyboard demos in other booths at the show, including:
Follow us on Twitter to see photos and videos from the exhibition floor throughout the week. We've equipped Jason with a new video gadget, so we are aiming for 78% less shaking in our videos!
Check out the NEW!! Storyboard Suite 5.2
We are thiiiiiiiis close to releasing Storyboard Suite 5.2, so we are excited to show off the features and capabilities we've added for the entire embedded UI design team. Stop by the booth and ask to see it in action. Check out our new artboard import, Sketch integration, Storyboard Connector, compare and merge tool, and other exciting functionality.
If you want to get together with us at Embedded World, please contact us to set up a meeting. Alternatively, just drop by our booth and chat with us. We are friendly Canadians and we'd be happy to talk with you about embedded UI design,
As always, we provide a full-featured 30-day evaluation for you to try out Storyboard Suite first hand.
See you at the show!