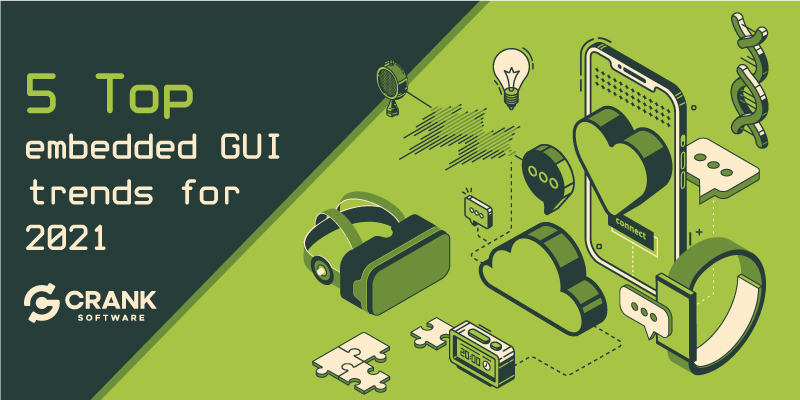 We all know the old adage that user experience (UX) is often best when it goes unnoticed. Embedded systems UX, however, has traditionally had a somewhat less flattering aphorism: Build for function, not design. It's not responsive, it looks old, it doesn't behave like my smartphone — these reasons are why we in the embedded GUI industry constantly strive to do better, even as we attempt to squeeze rich, immersive experiences onto low-power, resource-constrained devices.

There are many options when it comes to evolving your product's UX and the past year has shown us that consumer and enterprise habits have changed for the long run. Whether it's complex graphics on lightweight wearable devices or packing more functionality into medical equipment, effective UX design no longer belongs exclusively to the realms of smartphones and web apps.
To help plan your embedded product development roadmaps now, here's how we see the top 5 embedded GUI trends for 2021.
More touchless user interfaces
Covid-19 has taught people to rethink long-standing social and technological habits, no more so than how consumers interact with public devices. Touchless technologies, such as Ultraleap's TouchFree, allow users to interact with systems by using gestures, voice, and facial recognition to input GUI commands. This is usually accomplished through microphones, cameras, or other types of sensors that are able to send data about the user's actions in ways the application can recognize.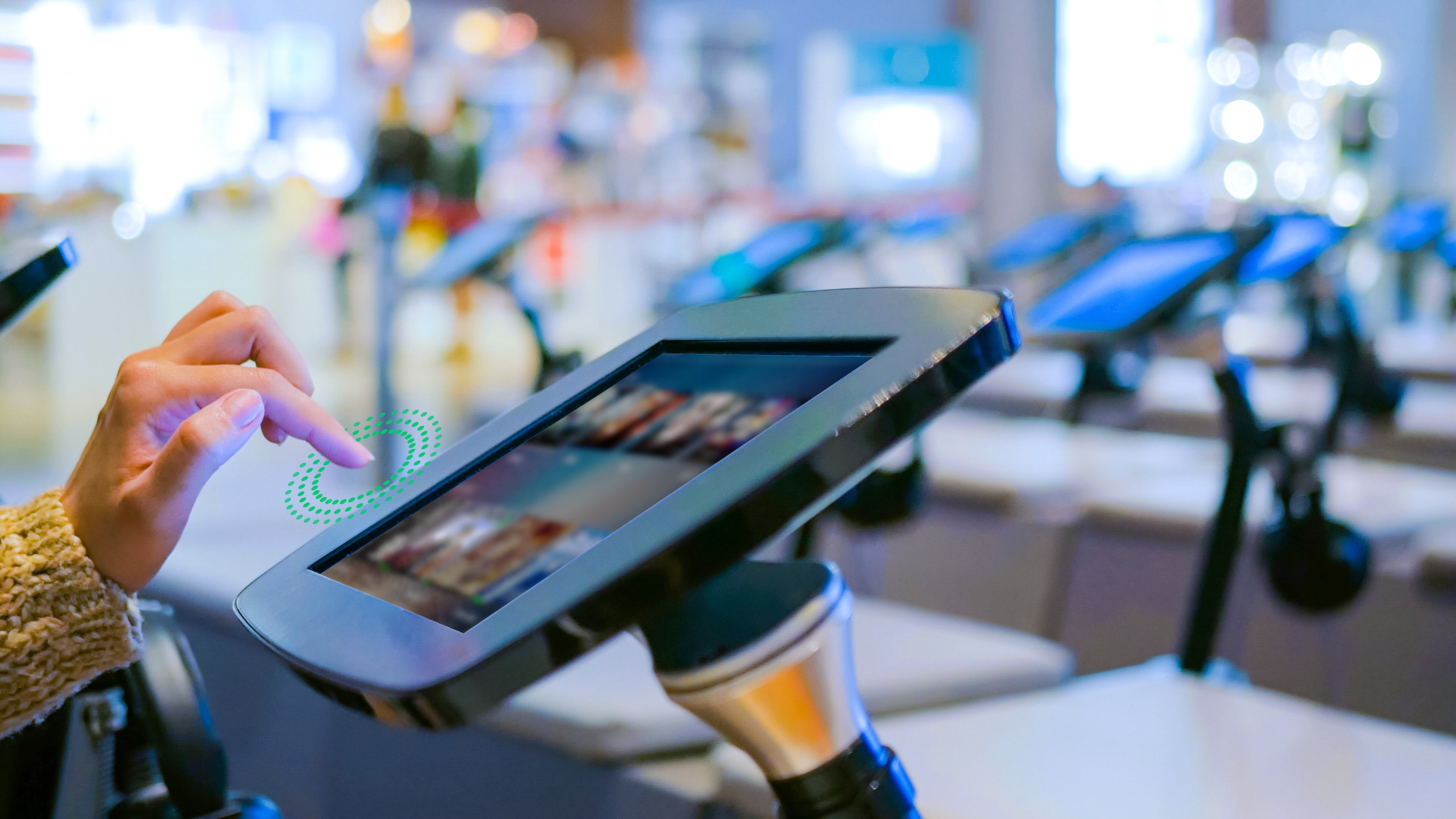 Touchless user interfaces open up a whole new world of interaction types that are not only important to consumers in the areas of ATM banking, vending machines, and more, they are also being explored to help healthcare providers interact safely with medical equipment.
With 80% of people thinking that public touchscreens are unhygienic, it's time to investigate whether your product should make the transition from touchscreens to touchless.
Edge computing competes on UX
While some say edge computing will be the new cloud in 2021, consumer and enterprise adoption of new edge devices will be entirely dependent on the quality of their UX. Several months ago, Forrester reported that the average US adult is connected to 3.2 channels (SMS, voice, instant apps, chatbots, etc.) across multiple devices, a number that will only grow as technology enables edge computing to push into more frontiers:
"...edge computing technology needs to sit as close to "the action" as possible. It may be a factory floor, a hospital room, or a North Sea oil rig." - Glenn O'Donnell, Forrester, for ZDNet
These new use cases will make or break embedded GUI development and design teams as rich and high-performing user experiences will be a key differentiator for products, especially in industries that have been using the same types of UX design for many years. Think of the market size and the number of players in the mobile phone industry a decade ago — those that didn't transition to full-glass, rich UX smartphones are all but gone now.
The only constant for edge device UX will be to figure out how to consolidate more types of connectivity, such as 5G and wireless networking, and features onto a growing variety of hardware options and form factors.
Wearable technology enters new markets
One specific slice of edge computing is the growing wearables market. Predicted to see double-digit growth through to 2024, according to IDC, the types of products in this sector have grown beyond traditional consumer devices worn on the body, like smartwatches and fitness bands, to encompass use cases that provide on-demand data and features where people need them the most.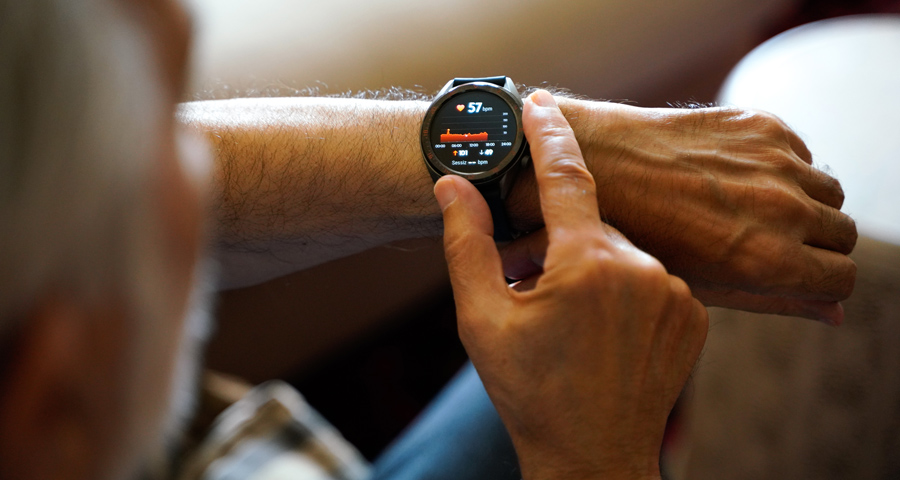 More aptly called "wearables and personal devices," demand is growing in every sector, from industrial and manufacturing (e.g., the wearable IIoT) to healthcare (e.g., personalized biomedical devices). Incorporating rapidly-evolving technologies such as augmented reality, biometrics, and artificial intelligence, development teams must consider two sides of the wearables UX design equation: Hardware and software. Not only must the device have a long battery life, it must do so with an enriched user experience, solid connectivity, and a convenient form factor.
Medical user interface design pushes boundaries
All five healthcare trends reported by Bernard Marr at Forbes involve UX. Whether it's the need for every company to become more healthcare savvy in the wake of Covid-19, or the rise in remote medicine and patients wanting to drive their own care, medtech is evolving into more personalized, smartphone-like experiences.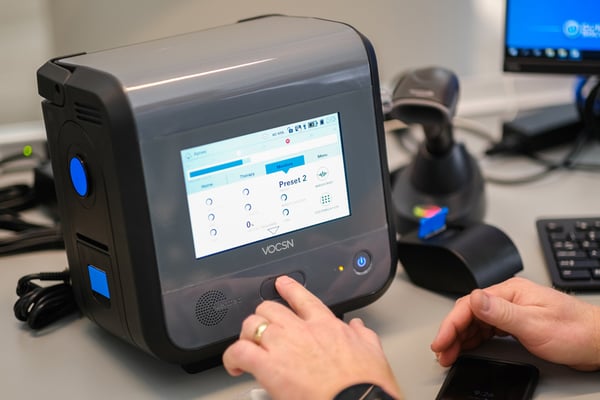 The desire for more features and improved UX is already pushing the boundaries of what device development teams can do, especially as they are constrained by safety and privacy regulations that other industries do not fall under.
The Ventec Life Systems Multi-Function Ventilator is a perfect template of how a medical device manufacturer recognized a market opportunity and upgraded their product to meet the needs of a rapidly-changing marketplace. To offset the challenge of bringing five separate therapies onto a single device, Ventec created an embedded GUI that combined these functions in a way that was as easy and intuitive to use as a patient's smartphone.
New opportunities in smart office and remote working environments
The dramatic increase in remote working has forced many organizations into new office strategies and to balance the need for physical spaces with the demand by employees to work from home. According to the Forrester report, Rethink Your Smart Office Strategy, business leaders "will need to focus on five factors: employee safety; space and resource efficiency; individual productivity; collaboration; and inspiration."
The need for hybrid working models will only grow and offer opportunities for embedded systems teams to deliver new value with exceptional UX design for devices ranging from smart desks and intelligent climate controls to voice-activated assistants. According to the Arm Ecosystem Predictions & Perspectives 2021 report, over 70% of survey respondents think that the new remote workforce is a very important or extremely important consideration in designing future devices.
What will your team do?
We conclude with a strong recommendation on how to take advantage of these embedded GUI development trends: Your team must get out of "lone wolf" mode. Effective, high-performance UX will require equal inputs from UX experts, product managers, designers, programmers, QA engineers, and more. Trust is the fundamental component to success here. Trust in your team and, more importantly, in building the culture, tools, and processes to deliver products that users trust.
To meet user expectations while balancing feedback from key stakeholders, embedded software developers must be able to demonstrate capabilities quickly, accept feedback, and iterate fast on design, software, and hardware changes.
If the past year has shown us anything, it's that the writing is on the wall for products that cannot adapt fast to meet user expectations around embedded experiences. Researching the trends described here and incorporating tools that help your team succeed at UX-focused design and rapid iterations will help you step up to surpass the competition.