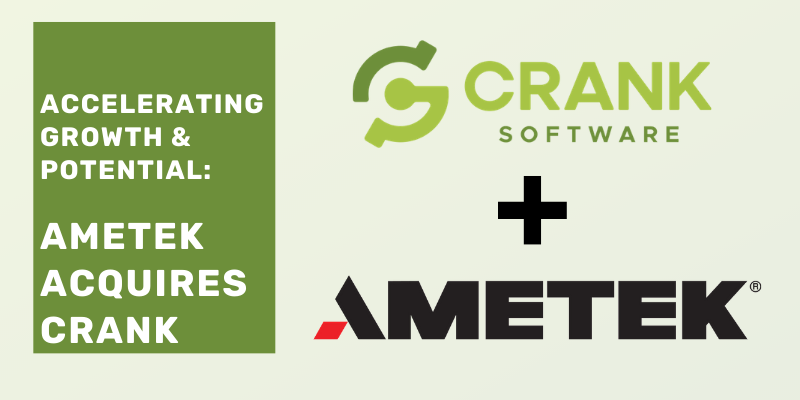 Growth is great! We're thrilled to let you know about our recent acquisition by AMETEK (NYSE: AME) .
This was an ideal time for our team at Crank. With more customers and professional service engagements than ever before, plus a proven technology base and decades of domain expertise, we were in the perfect position to accelerate our future growth.
Meeting the needs of the global IoT product space — the microcontroller market alone is expected to grow by almost USD $6 billion in the next three years — requires the fuel and the channels to make it happen.
Multiplying our potential
We started our journey over 13 years ago, with five employees above a local pub in Ottawa. Now we have over 40 Crankonauts in a cool, shiny office (when we can go in) and hundreds of customers around the world. We've done the right things well to build the technology and services that meet the needs of designers and developers of embedded GUI products.
Enter AMETEK. With massive international presence, roughly USD $5 billion in annual sales, and a diverse, decentralized business management model, AMETEK provides both the fuel to expand our growth strategy and the flexibility to maintain our high-level of agility and service that customers expect. This relationship provides the added assurance to work on new initiatives and markets to propel the development of sophisticated UX for embedded systems.
We also hope someone at AMETEK can help fill out our softball team.
Business continues
With AMETEK business units operating as standalone entities, we'll maintain our market-driven product focus and industry-leading customer experience. There will be no changes to customer support levels or our sales team — the same people you dealt with before will be the same people going forward (yes, including Jamie).
Above all else, Thomas, Jason, and I want to thank our staff, our customers, and our partners around the world. This community of skills, support, and energy have brought us here and will continue to propel Crank to new heights.
Looking forward
We will continue to make the hard things easy for our industry. If you have any questions, comments, or would just like to chat about this exciting new relationship, please feel free to contact your sales or support representatives.
With growth, comes the opportunity for future Crankonauts to join our team. If you're interested in what we do and want to help us do it, check out our careers page here: