If you're near Chicago next week make to stop by and see Crank Software's talk on "Collaborative UI Development" at ESC Chicago.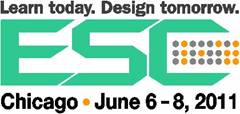 Yours truly will be discussing the issues that all teams face when trying to develop a rich UI's for embedded device. Some of the topics will include :
The new look of the embedded development team
Current work flow and issues when working with UI/UX Designers
Model View Controller Architecture
Managing changes and risk
Testing and Integration
The talk will be on June 8th at 10:10am in meeting room 30.
Hope to see you there.
- Jason