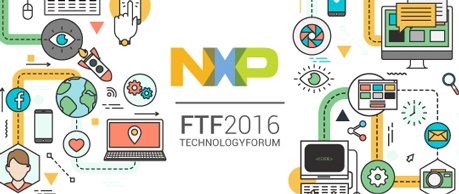 Crank Software will be well-represented at NXP FTF Technology Forum 2016 next week in Austin, Texas, May 16-19. We will be running a hands-on lab again this year, as well as showcasing demo GUIs and Storyboard features and capabilities at the exhibition. If you are going to the show, here's what you can expect to see.
Exhibition Hall - GUI Design Demos
Visit the Crank Software booths (151 & 154) to check out a wide range of application GUIs designed and developed with Storyboard. We will also be demoing the latest enhancements and features in Storyboard 4.2.
You'll find innovative Storyboard demos in a number of partner booths at the exhibition as well, including:
Crank Software & NXP booths will be showing Storyboard GUI demos that span automotive, white goods, and lifestyle applications on a variety of NXP iMX family processors. Not to be missed is the impressive Movie Theatre Kiosk, an interactive demo built with Storyboard, running on the high-performance NXP i.MX 6QuadPlus on Linux with OpenGL ES rendering.
Hands-on Learning Opportunity - Storyboard Lab Session
If you'd rather learn by doing rather than watching, we will be teaching a hands-on lab again this year, so make sure you rearrange your busy schedule at the show to attend our session. You'll get your hands dirty in the 2 hour classroom session, so bring your appetite for learning and try your best to stump the Crank instructor.

Hands-on Lab - The Evolution of Embedded GUI Design: From Photoshop to Crank Storyboard to i.MX Series Hardware in Minutes (FTF-DES-N2034)
When: Tuesday, 4:45 PM
Where: Griffin Hall 5 - Level 2
What: In this session, users will: import design artwork directly into Storyboard; add interactive functionality and rich animations; test in the simulator to quickly refine and update the design; and deploy a functioning application prototype directly to an i.MX platform. After completing this workshop, users will be able to import artwork directly from Photoshop into Storyboard, develop a rich application GUI, and deploy to hardware.
We will be tweeting from the show, so be sure to follow @cranksoftware for updates.
The NXP FTF hastag this year is #NXPFTF.
If you haven't taken Storyboard for a test drive yet, download a 30-day free evaluation and start designing today.
See you at the show!