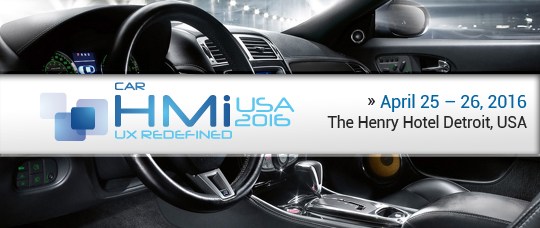 Over the next few months we will be attending several shows to showcase the latest features and functionality in Storyboard Suite 4.2, as well as a number of innovative, multi-market demos we've built that highlight the range of application GUIs that can be designed and developed with Storyboard.
First up is automotive with Car HMI USA 2016 next week in Detroit, April 25-26. If you plan to be at the show visit us to check out some automotive HMI demos we've built with Storyboard Suite. You'll be able to touch and interact with the demos and chat with one of our UI designers about his experience using Storyboard Suite to bring his designs to life.
For examples of HMI applications designed with Storyboard Suite, check out the QNX Bentley Concept Car, the Mississippi State University EcoCAR, and demos we brought to CES 2016 earlier this year, including a digital instrument cluster that was part of the QNX Software Systems interactive command center, which showcased vehicle-to-vehicle (V2V) and vehicle-to-infrastructure (V2I) technology.
If you aren't going to the show, you can always download the 30-day trial and try your hand at making awesome automotive HMIs.