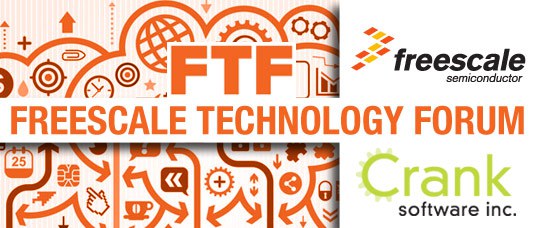 FTF (Freescale Technology Forum) 2015 is next week in Austin, Texas, June 22-25, and we are gearing up for another awesome show. We will be busy this year with presenting a lecture and running a hands-on lab, as well as demoing GUIs and Storyboard Suite at the exhibition. If you are going to the show, here's what you can expect to see:
GUI Design Demos
Visit the Crank Software booths (102 & 103) to see a range of application GUIs built with Storyboard Suite. We will also be demoing the latest enhancements to Storyboard Suite. Make sure you stop by to get a sneak peak of our upcoming 4.1 release!
On the show floor you'll see Storyboard Suite in a number of partner booths as well. Green Hills Software will be showcasing an automotive digital cluster built with Storyboard Suite for the INTEGRITY RTOS. In the Crank & Freescale Semiconductor booths you'll want to check out GUI demos that span automotive, audio, and IoT (Internet of Things) applications.
Learning Opportunities - Storyboard Suite Sessions
We will be giving a 1 hour lecture at FTF, as well as teaching a hands-on lab. If you like presentations with tonnes of heavy-text slides and boring demos, you'll want to skip our sessions. In the lecture we will be showing a quick Storyboard Suite demo, which includes deploying an application directly to i.MX hardware. You'll get your hands dirty in the 2 hour classroom session, so bring your appetite for learning and a sense of adventure.
Lecture - The GUI of Things: Using Crank Storyboard Suite to Accelerate GUI Design for IoT Applications (FTF-DES-F1368)
When: Monday, 4:15 PM
Where: Griffin Exhibition Hall 5 - Level 2
What: In this presentation and we will share the latest features in Storyboard Suite that support ease-of-use for designers and team collaboration. We will conduct a live demo that starts in Storyboard Suite and showcases the design process from importing Photoshop .PSD files to deployment on Freescale's high-performance and widely-used i.MX series applications processors and everything in between.
Hands-on Lab - The Evolution of Embedded GUI Design: From Photoshop to Crank Storyboard Suite to i.MX Series Hardware in Minutes (FTF-INS-F1154)
When: Tuesday, 2:30 PM
Where: Griffin Exhibition Hall 6 - Level 2
What: In this session, users will: import artwork from designers directly into Storyboard Suite; quickly add interactive functionality and rich animations; test in the simulator to quickly refine and update the design; and deploy a functioning application prototype directly to an i.MX platform. After completing this workshop, users will be able to import artwork directly from Photoshop into Storyboard Suite, develop a rich application GUI, and quickly deploy to i.MX series hardware.
We will be tweeting from the show, so be sure to follow @cranksoftware.
(FTF hastag = #ftf2015)