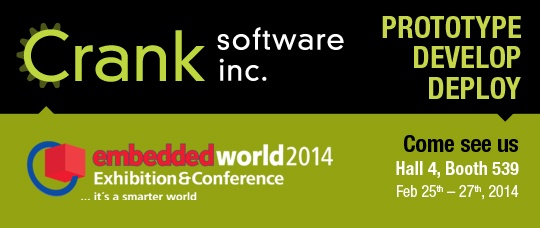 It's that time of year again. The folks here at Crank are getting geared up to head to Embedded World 2014 in Nuremberg, Germany, next week from February 25 – 27.
Getting the opportunity to showcase Storyboard Suite to a receptive audience always gets us pumped, and this year we have even more to get excited about. We released Storyboard Suite 3.2 this past November, and can't wait to show off the latest features in our booth. Whether you are involved in designing or developing user interfaces for embedded systems, we've been innovating and adding features with you in mind. Did you know that 3.2 allows you to re-import Photoshop files as you make revisions? We don't mind if you need to tweak your graphics 10 times. Storyboard can handle that. Working with 3D elements in your design? 3D edit mode can help make editing them simple and quick. Want to hear about more new features geared toward making it easier to integrate designers into the development process? Come chat with us in our booth– Hall 4, Booth 539. We're super friendly and look forward to meeting new attendees and reacquainting with familiar faces.
Check out some of the 3.2 features you can expect to see in our booth:
Demos? We've got 'em! Sure, we could go on and on about how great we think Storyboard is, but we know you'd rather see it in action and check out some awesome interfaces that have been built using it.
Some of the demos and target platforms showcasing Storyboard that we'll be showing include:
While you're cruising the exhibit floor, don't forget to check out some of our partners showcasing Storyboard technology in their booths:
We hope to be blogging, tweeting, and posting photos, so stay tuned for updates from the show floor in Germany. If you are attending Embedded World, we are looking forward to seeing you! Perhaps we will be giving away free stuff!*
If you don't find yourself in Germany at Embedded World next week, take a moment to download a 30-day evaluation and try out the Storyboard Suite first hand.
*No guarantee of free stuff