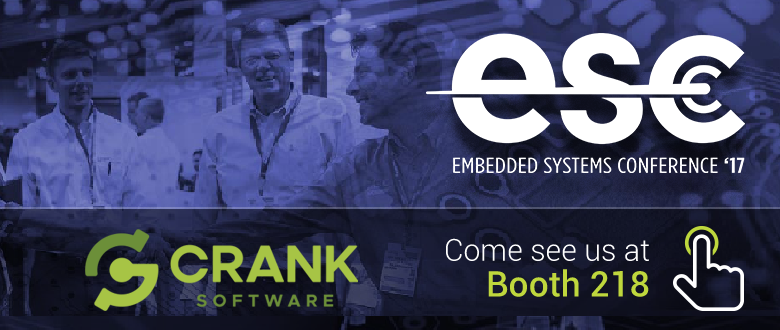 We are on the road again. This week we are at the Embedded Systems Conference (ESC) in Minneapolis (November 8-9) and we are excited to see the best in tech for embedded systems.
We're at the show to discuss embedded design strategies and best practices and to showcase the latest in HMI user interface (UI) development, including the innovative Storyboard Suite platform that lets designers and developers work side-by-side to create amazing user experiences on a wide range of platforms.
Experience multi-market demos on a number of embedded platforms
Pop by booth 218 to see how beautifully Storyboard Suite applications scale across a range of hardware. Whether you're in the medical, home automation, or consumer/white goods industry, we've brought an application of interest. Come interact with a medical demo on the Microchip SAMA5D2 that includes blood pressure, heart rate, oxygen, and temperature monitoring, as well as ECG display. Read more about the making of this demo on the Crank blog. We also have multi-market demos on an NXP i.MX 6QuadPlus and an STM32F7.
In addition to these applications that we've created in-house, we have a really cool customer application developed by Metrohm to show off. The Metrohm Instant Raman Analyzers (Mira) is a robust and reliable portable spectrometer for identifying and verifying chemicals and compounds that have a Raman signature. Metrohm used Storyboard Suite to create an intuitive user interface for the application, taking advantage of the internationalization capabilities in Storyboard to ensure fast and easy translation of UI elements.
See Storyboard Suite in action
Want to see us build a UI while you wait? Nik, our awesome field applications ninja, will walk you through the entire UI creation process, from Adobe Photoshop to deploying and debugging on a real target.
Drop us an email to set up a time to chat and see Storyboard Suite in action. We hope to see you at the show!
To try out Storyboard on different platforms for yourself, download and run our ready-to-go demo images.