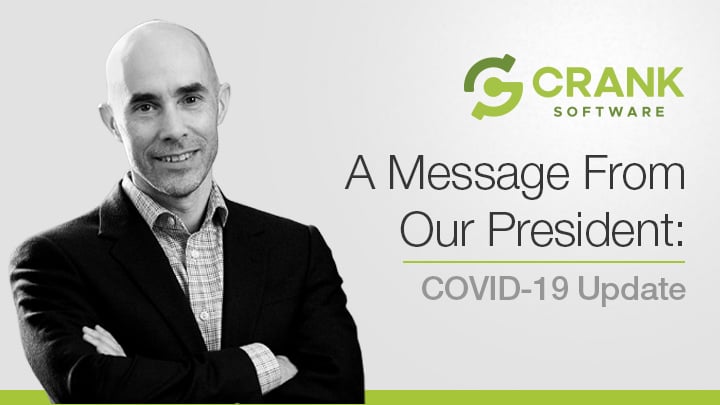 My thoughts are with you and your loved ones during these uncertain times, and like so many, it's tough to hear updates about the impacts COVID-19 is having on our communities every day.
Here at Crank Software, we're continuing to monitor this situation closely and wanted to take a moment to summarize some of the things we are doing to keep you connected.

The good news is that I am so proud of the worldwide team we've built at Crank. During these tough times, our entire team at Crank Software are thinking positively and doing everything we can to support our community. We're all experienced in remote work and setup to keep things moving forward, to ensure you're as successful as possible right now.

We have a motto at Crank "to make hard things easy", and in times like today, this continues to ring true. Our Support team is determined to make sure our customers' needs are met under these stressful circumstances. We're available and ready, via live chat, phone and email to help make your UI development easier for you. Our live chat is available from 9am-5pm EST or you can always email support@cranksoftware.com for a response within 24 hours.
No matter what your situation may be, we are here as a helping hand. With 25+ years of embedded expertise, our Custom Services team of designers and developers are also ready and able to jump in and fill any team gaps you may have, or milestones you need to hit - fast.
One of our amazing Crank customers is racing forward with Storyboard to quickly get more ventilators to market to help save lives during this time.
That's a great feeling.
We'll be using some of this time to create new learning materials that will help you start or continue to build out your embedded UI projects.
On April 8th, Thomas Fletcher, Co-Founder and VP of R&D, will talk about the tools our clients and own team are leveraging today to keep UI development projects moving forward, straight from our Facebook page.
Stay tuned for the launch of our Getting Started Series including step-by-step video tutorials and webinars as well as the new Advanced Storyboard User Series with our team of embedded experts. We've also added many new videos to our Youtube channel for you to check out.
No business or person goes untouched by this health crisis.
I want to extend many many thanks to all of those helping in this time of need from healthcare to all of the essential services workers.

Please take care of yourselves and your loved ones. We're all going to get through this together.

Stay safe,
Brian Edmond
President, Crank Software