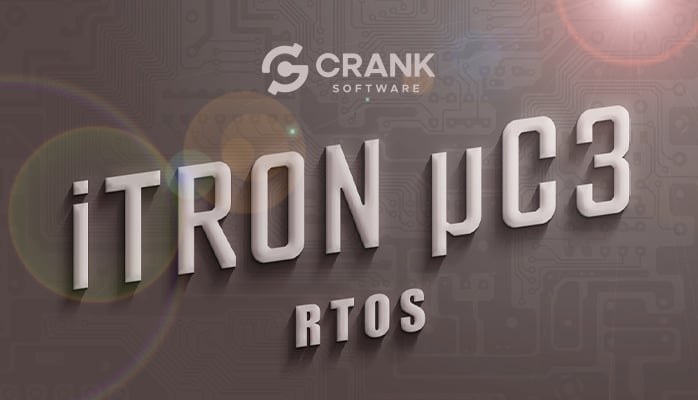 Thanks to our partner Satoshi Sasaki , General Manager at Crank Partner, uQuest, for this guest post.

Crank Software's UI development software now supports μC3, Japan's leading RTOS. With μC3 being one of the major iTRON RTOS in Asia and users now having access to the award-winning software, Storyboard, embedded development teams can create rich graphics for their touch display HMI products with ease.
What is iTRON?
iTRON is a real-time RTOS kernel specification developed by the TRON project. When the specification was released in 1993, Japanese semiconductor manufacturers including NEC, Hitachi, Toshiba, Mitsubishi, among others, implemented the RTOS conforming to the iTRON specification for their MCUs. This answered a crucial need for Japan's electronics industry, which traditionally had firms writing their own software for embedded systems. The process was time-consuming and often resulted in an abundance of unalike, incompatible embedded HMI systems.

The iTRON specification can be tailored to any embedded HMI system and has quickly become Japan's de facto standard. According to Linux Insider, the specification is used in an estimated 3+ billion microprocessors, and microcontrollers with limited memory and resources.


iTRON μC3 RTOS for microcontrollers

With iTRON continuously expanding its offerings, the μC3 RTOS provided by eForce was built out as a compact RTOS optimized to operate with a small memory built into microcontrollers. Rather than a developer configuring the source code directly, the included configurator executes GUI-based RTOS, TCP / IP, device configuration, and automatically generates base code.

As a result, many manufacturers in Asia, mostly focused on consumer products, have adopted iTRON/μC3 in their products. With this adaptable OS in their tech stack, manufacturers across all industries have gained many design wins.

"Our μC3 customer base has been eagerly awaiting the capability to build sophisticated GUIs that are possible with Storyboard, and as Crank's distributor here in Japan, we're thrilled to now be able to deliver upon this promise," said Shoji Tanahashi, President and CEO, UQUEST. "Crank's promise to help teams get rich, embedded graphics to market faster is something our Japanese engineering community now has the opportunity to capitalize upon."


Using Storyboard to create interactive GUIs with impressive graphics development
Since iTRON is just a specification of the RTOS kernel, there are no specifications for any I/O interface, except for some parts such as IP stack. These interfaces such as a USB or SD are then implemented by third parties and provided as middleware. In terms of UI development tools available in the past, there were some of course, however not many of them could support touch screen panels and interactive UIs. Japanese consumer device manufacturers had to try to meet the needs of the market by changing their OS to Linux or adapting to Android tablets as their standard UI. Today, with Storyboard supporting μC3, users can now implement rich and brilliant graphics for their UI, with their familiar iTRON RTOS.
This UI design and development support by Crank Software and their software, Storyboard, is a milestone event for Japanese manufacturers using iTRON RTOS. Our team at uQuest and eForce believe that the collaboration between Storyboard and μC3 will provide rich and brilliant graphics for touch screen UIs of all kinds.

uQuest will also fully support Storyboard as a distributor for Crank.

Written by: Satoshi Sasaki, Marketing Manager, at uQuest.