Updated on March 5, 2020.

The Crank team hopped on a plane and left the cold Canadian winter behind heading to our biggest industry event of the year in Nuremberg, Germany. Packed with maple syrup, Tim Hortons coffee, toques, and coffee crisps; the crew was armed to take on Embedded World 2020 to talk the latest in embedded UIs (Hall 4, Booth 459). As day one came to a close, we were thrilled to be honoured and presented first place in the Embedded Award software category for Most Innovative.
Storyboard takes first place in the Embedded Award software category. 🏆
The Embedded Award is presented annually by a jury of Embedded World event organizers and pays tribute to distinctly innovative products and developments in the embedded space. Our embedded UI design and development software, Storyboard's hybrid rendering technology developed in collaboration with our partner NXP, was a significant portion of the award submission.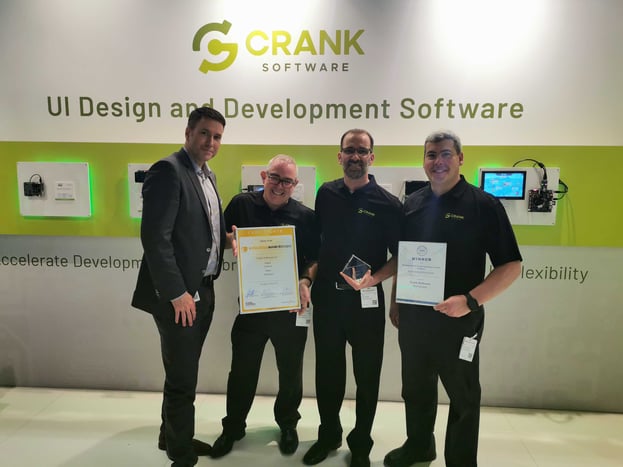 Above: The Crank Software team at Embedded World 2020.
Our Crank President and Co-Founder, Brian Edmond, notes that the Crank team's growth and product success up to this point has been due to the increasing consumer demands for touch screen products jam-packed with impressive graphics and top performance.

Customers today expect that a touch screen is going to perform a certain way. It's up to manufacturers to deliver and exceed that UI expectation, which otherwise can be a deal breaker. Storyboard helps product teams ensure that their best design possible is executed with a time-to-market that, for most teams, is unprecedented."
Jason Clarke, our Crank Co-Founder and VP of Sales & Marketing, happily accepted the award at Embedded World while the rest of the team celebrated from Innovation Drive in Ottawa, Canada (not a joke, look up our office on a map!).📍

"It's exciting to be recognized by our peers and experts in the embedded industry because it validates that we're doing the right thing - helping to solve the UI development challenges our customers face in an innovative and more affordable way."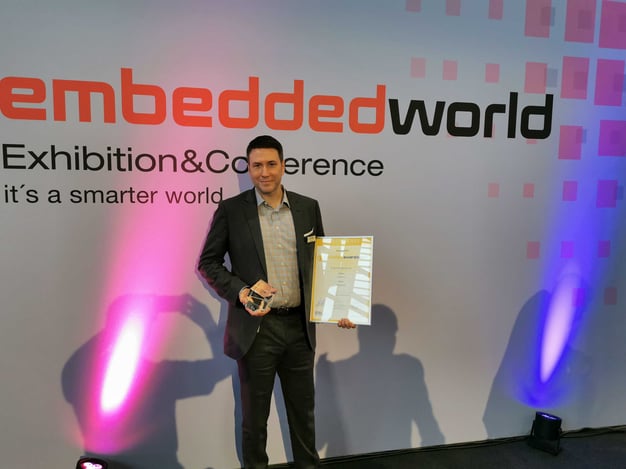 Above: Jason Clarke, Co-Founder and VP of Sales & Marketing, accepting the Embedded Award.
Hybrid rendering solves challenge of embedded graphics draining battery life.
Storyboard's hybrid rendering innovation solves the challenge of sophisticated graphics draining battery power, that normally forces embedded UI developers to skimp out on impressive features and functionality that consumers want to see and experience. With Storyboard and hybrid rendering, embedded UIs can now utilize the 2D and 3D GPUs more efficiently, by dynamically evaluating the content to be rendered - and then automatically rendering that content using the most suited power-optimized GPU.




"The power-efficient i.MX 7ULP allows for Storyboard to create a richer, faster UI by leveraging 3D hardware acceleration," said Nik Jedrzejewski, i.MX Applications Processors product line manager at NXP. "At the same time, Crank's Storyboard recognizes that a 3D GPU is not always the right solution and it is more power efficient to use the separate 2D GPU for the acceleration of 2D graphics, providing higher 2D performance versus using the 3D GPU. This recognition by Storyboard not only helps with graphics performance but also preserves the battery life of mobile products."
Storyboard takes Best In Show. 🏆
The Best In Show Award presented by Embedded Computing Design, is also awarded at Embedded World. We were recognized as Best In Show in the Development Tools and Operating Systems category for Storyboard Lite, the same development environment as Storyboard, but it enables teams to design embedded UI applications that aren't bloated with extra components.
Toques and hybrid rendering talks.
We showcased our hybrid rending innovation on NXP's i.MX 7ULP at Embedded World. If you attended our booth (Hall 4 - 4/459), you saw hybrid rendering and Storyboard Lite in action. I hope you grabbed some great Canadian goodies and toques while you were there - eh!
Want to try it for yourself? Download your free full-featured trial here.