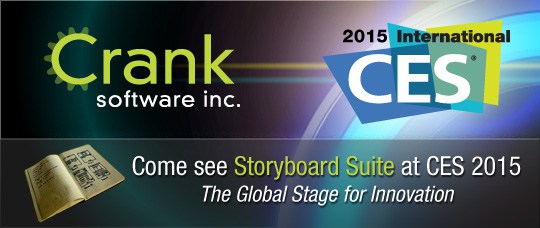 As we wrap up an exciting 2014 here at Crank, we are also looking ahead to the new year and preparing for a little show called CES, in Las Vegas, January 6-9. If you are heading to the show and want to meet up with us, drop us an email. We'd be happy to show you some application demos and give you a sneak peek at features we've been working on for our up-and-coming Storyboard Suite release. See them first at CES!
Where can I see Storyboard Suite demos at CES?
Because CES is an event that pulls together the latest and greatest of technology innovation, there's opportunity to catch a lot of great application demos, and it turns out that Storyboard is the tool suite between several of them. Visit our partners at CES to check out examples of application UIs crafted with Storyboard Suite, such as the following:
Texas Instruments - You're going to want to go to TI Village (N115-N119) to check out the automotive cluster and HUD demo featuring UIs built with Storyboard Suite. Someone from Crank will be on hand to talk to you about Storyboard's involvement in this project, answer general questions, and provide Storyboard demos.
Freescale - Have you seen Freescale's Internet of Tomorrow Tour? It's a very large truck housing about 120 demos, so it's pretty hard to miss, and it's heading to CES. Be sure to check out the IoT Secure Transactions demo, a secure payment credit card application featuring a UI built with Storyboard Suite running on the Green Hills INTEGRITY RTOS.
Atmel - Lifestyle and fitness applications have exploding over the past couple of years. Visit our friends from Atmel and see a treadmill application built with Storyboard Suite. The application features video playback and a touchscreen with multiple controls that can be used to interact with the treadmill's functionality and feedback data.
You'll find other applications throughout CES with stunning UIs built with Storyboard Suite. If you find one, tweet us a photo @cranksoftware. We don't always know where Storyboard UIs might turn up! It's like a fun CES party game of "Where's Crank?".
We hope to see you at the show. It will be awesome!