We are quickly getting closer to our 1.1 release of our Storyboard Suite. One of the bigger features that will be available in this release is a Linux hosted version of Storyboard Designer. No longer will you Linux developers need to flip back and forth between a Windows and Linux box in order to do your work. Below you can see a snapshot of my Ubuntu 9.10 desktop with Storyboard Designer and our Simulator running.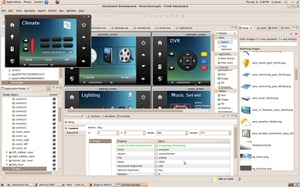 This is a very comfortable environment when you are targeting an embedded Linux for your target. We are currently looking for Beta users so if you want to give Storyboard on Linux a test-drive just drop me an email (jason@cranksoftware.com) and I'll set you up.
For you Mac users who have been waiting oh so patiently, the good news here is Mac will be our next officially supported platform. We will be working on it soon after the release of 1.1 in about a month so stay tuned for updates and the Beta.
Jason