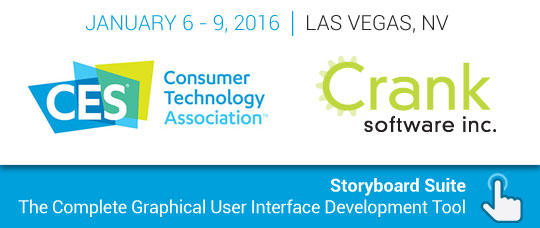 With 2015 winding down, we are busy preparing for an exciting start to 2016 with our much-anticipated Storyboard Suite 4.2 release and a number of technology shows. First up is CES, the Consumer Electronics Show, in Las Vegas, January 6-9. If you are planning to be at the show and want to connect with us, send us an email. We'd be happy to show you demos of GUIs built with Storyboard Suite and give you a sneak peek at features we've been working on for our upcoming release.
Storyboard Suite GUI demos at CES
CES is an opportunity for companies to show off the latest in tech, so you'll see a lot of cool products and cutting-edge concepts at the show. We are excited that Storyboard is the graphic design tool suite behind a number of rich embedded GUIs and HMI experiences to be showcased at CES.
From Automotive HMI Experiences to the Connected Home
Modern automotive HMI experiences require intuitive, high-performance GUIs to ensure convenience and safety. From innovative digital instrument cluster design to in-vehicle infotainment (IVI) systems, you'll see examples of Storyboard Suite automotive HMI demos from many companies at CES, including Visteon, Texas Instruments, Green Hills Software, and more.
Our homes are rapidly becoming smarter and more connected, leading to increased comfort, convenience, and security. CES provides a great opportunity to showcase smart home technologies, and Storyboard Suite is behind exciting home automation demos at the event. NXP's Internet of Tomorrow Tour will be rolling into Las Vegas, and will be hard to miss, given it's a massive trailer housing over 100 demos. On board is the home automation demo designed for FTF2015 by Crank Software and Freescale. Atmel will also be demoing a home automation application designed with Storyboard Suite.
This isn't an exhaustive list of Storyboard demos at CES. You'll find other applications and exciting projects at the show with stunning GUIs designed and developed with Storyboard Suite.
We hope to see you at the show.