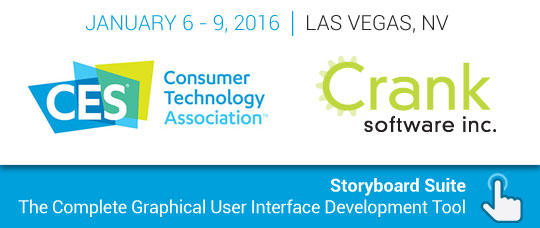 CES 2016 was earlier this month and we're still reeling from trying to take in the sheer volume of innovative technology that was showcased. It's mind-blowing just how much you can fit in a paltry 2.2 million net square feet of exhibit space. If you were at the show, we forgive you if you didn't catch the Storyboard Suite HMI demos, especially given hoverboards were banned, leaving you to walk a million miles to see everything.
Don't despair. We have photos and video to share from the show.
Photos & Video from Storyboard Suite Automotive and IoT HMI Demos
From innovative digital instrument clusters to in-vehicle infotainment (IVI) systems, Storyboard Suite automotive HMI demos were showcased in many booths at CES, including Visteon, Texas Instruments, QNX Software Systems, and others.
This quick Vine video from Visteon shows a dual OLED display with an innovative HMI designed in Storyboard Suite, with a second display remaining hidden until additional content is required:
This Periscope video from Texas Instruments shows a digital instrument cluster designed with Storyboard Suite:
Digital Instrument Clusters Photos
Home Automation Photos
CES 2016 highlighted the best in smart home technologies, and we are thrilled that Storyboard Suite was behind exciting home automation demos at the event. NXP's Internet of Tomorrow Tour, a giant trailer housing over 100 demos, showcased a home automation demo designed for FTF2015 by Crank Software and Freescale. In addition, our friends at Atmel demoed a home automation application designed with Storyboard Suite.
The Crank Software demos at CES 2016 were created with the (very) soon-to-be-released Storyboard Suite 4.2 version, which will deliver new exciting functionality for GUI designers working with 3D graphics, including FBX support to enable integration of animated 3D models in Storyboard Designer, and support for advanced 3D multi-mesh models. We've further streamlined the design experience with group templates, multi-step animation recording, and a new Animation Preview that gives designers the capability to quickly view changes to animations directly in Storyboard Designer.
To find out more about what to expect in the Storyboard Suite 4.2 release, check out our recent webinar, now available on-demand.