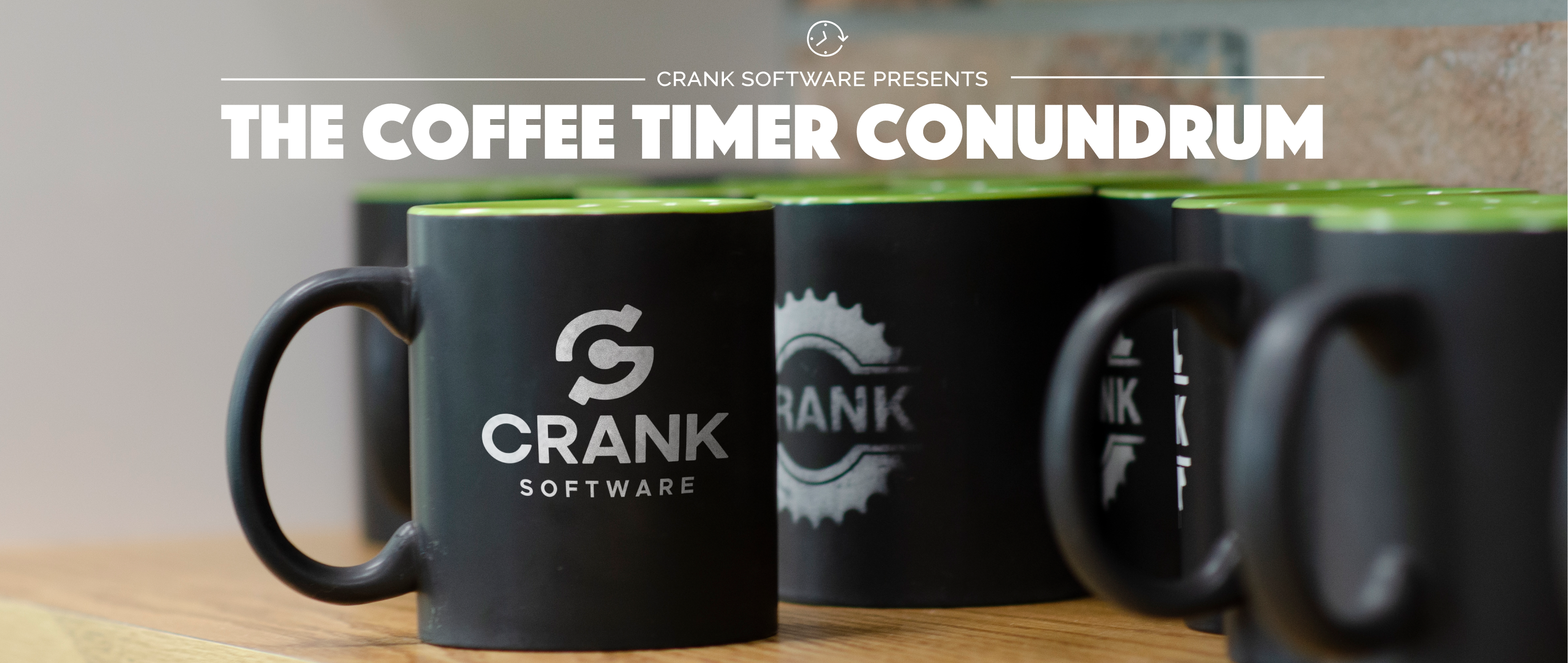 What do you call an office with a coffee addiction, an impractical kitchen timer and ice cold coffee in the morning? Chaos. Check out our 50-second video on how our savvy Crank UI developer turned chaos into happiness, with his embedded UI built with Storyboard.
What is the number one priority of most Crank Software employees when they come to the office in the morning?
Coffee.
What happens when the brew isn't timed and the coffee is cold?
Unhappy Crank Software employees.
Is there a solution to this (almost) office wide conundrum?
Yes.
Enter Corey Bigras, our genius Crank Storyboard developer, who in one evening decided to challenge himself to deploy a simple concept application - the double timer system. Why? So that everyone in the office could keep track of which carafe had what flavour of coffee and more importantly, how long the carafe had been brewed.
How did Corey make this application?
Crank Storyboard (of course)!
Corey and the other Crank Software developers use Storyboard to work alongside customers with the goal of making hard things easy. And in their spare time, for fun, to create custom applications such as an app for solving say... coffee conundrums.

The previous coffee timers were not user friendly…
"My initial goal was to make it easier to use than the stopwatch and to keep track of which flavours/blends were in each pot. The double stopwatch had a tap count of 3 or (usually) 4 to start a pot: select T1/T2, stop, reset (2 finger), start. The app I built using Storyboard has a tap count of 2 (which includes setting the flavour): started, select flavour." - Corey Bigras, Crank Software Developer
Why make a video?
Simply, why not.
Making a video seemed to be the most logical way to create a quick comical summary of how the problem in the Crank Software office started and how it was solved. And everybody loves a good video, right?
The solution not only provided us with a brand new timer for ultimate freshness tracking, but also brought our caffeinated team together to celebrate hot cups of coffee once again.
A new addition to this application is already on its way.

After weeks of using the new timer, some of our designers saw an opportunity to beautify the interface for a more engaging touch screen experience. Fancy.
Stay tuned for a follow-up of this application!
On a final note, Storyboard does everything from solving fun workplace conundrums to creating unique customer projects. How will you use Storyboard? Check out the concept car case study for inspiration or grab yourself a free trial with all features available for 30-days here.