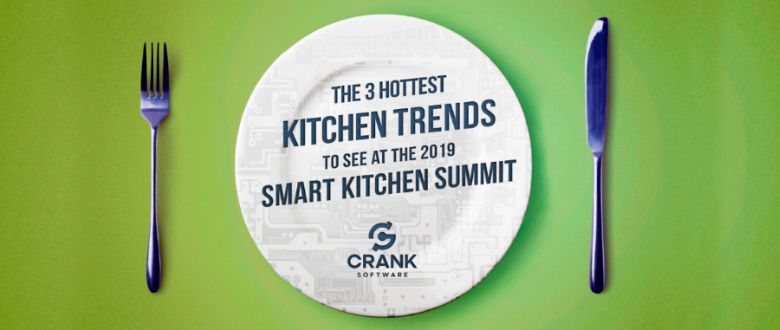 The kitchen is becoming one of the tech scene's fastest growing spaces. It makes sense: the kitchen is the center of the home – where we nourish ourselves, bond with our families, and socialize with friends. New technologies are bursting into the smart kitchen scene with the intent to give people back the time they currently spend planning, preparing, and cooking food. It's a long-awaited combination: food ecosystem meets modern tech.
We have our own insights about where kitchen tech is going through our work helping customers develop cutting-edge consumer products, especially as it relates to those with embedded UIs. But to get a fresh perspective, we decided to talk to Michael Wolf, publisher of the Spoon and creator of the Smart Kitchen Summit (SKS), to ask him what epic trends we could expect to see at this year's show in Seattle, Washington.
The 3 hottest kitchen trends to see at SKS 2019 are...
Trend #1: Consumer products with multi-modal inputs
Trend #2: Software-defined appliances
Trend #3: Embedded projection screens
---

Consumer products with multi-modal inputs
With the growing popularity of devices like the Amazon Echo Show and the Lenovo Smart Display, Michael believes one of this year's hottest kitchen trends will be devices with embedded multi-modal inputs. Of course, voice inputs will remain popular as well as rich, intuitive LED screens. But the two together will provide the ultimate in convenience.
Imagine making pastries without a recipe. It's no problem when your smart fridge can provide you the recipe and directions for you. Asking your fridge to tell you the step-by-step instructions is helpful, but adding a coordinated visual component – seeing the instructions on the fridge's front-door display too - makes it that much easier. The same goes for creating a shopping list. Asking your fridge to add items to your list is practical, especially if your hands are full; reviewing that list to make sure you didn't forget something is far easier visually. Ultimate convenience.
Here's another great use case. You're elbow-deep in making the pastry dough when the doorbell rings, of course. With a fridge that supports both voice commands and a screen, you can simply ask it to display an image from the front-door cam, to see if the person on your porch is someone you actually want to see. "The combination of voice and visual aids is a powerful combo," says Michael. "This is where the next-gen of cool apps will come from."
We're also seeing the importance of this movement with a number of customer projects linking Crank Storyboard to digital voice assistants.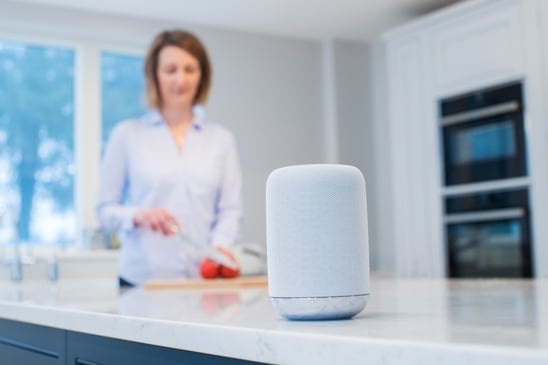 A digital voice assistant is poised to be the next big things for connected kitchens.
Software-defined appliances
Purchasing a kitchen appliance has traditionally been like buying a car: its value depreciates the minute you use it. Michael sees the kitchen market changing much like how the automotive market is transforming – through software upgradability and UI changes. "Adding advanced technology to appliances will make them much more valuable over time," explains Michael.
The Vorwerk Thermomix TM6 is a prime example. The original do-anything kitchen appliance is now in its sixth generation and is the first iteration to truly enter the smart kitchen realm, with both integrated Wi-Fi and Bluetooth. Equally important, the Thermomix TM6 has a new quad-core processor (the same processing power of today's smartphone) and 16 GB of memory (the baseline for an iPhone 6), enabling storage of new software features, media-rich recipes, and more. According to Michael: "This provides almost unlimited opportunities for new functions and upgrades via software updates." The device also boasts a large 6.8" touchscreen display, which Michael considers a "game changer" for interacting with the appliance and viewing media-rich recipes.
We can't help but be proud of the Thermomix TM6's glowing reception since it's another Crank Storyboard UI customer success!
The concept of upgradability is a new one in the kitchen, but Michael definitely sees it catching on with both manufacturers and consumers.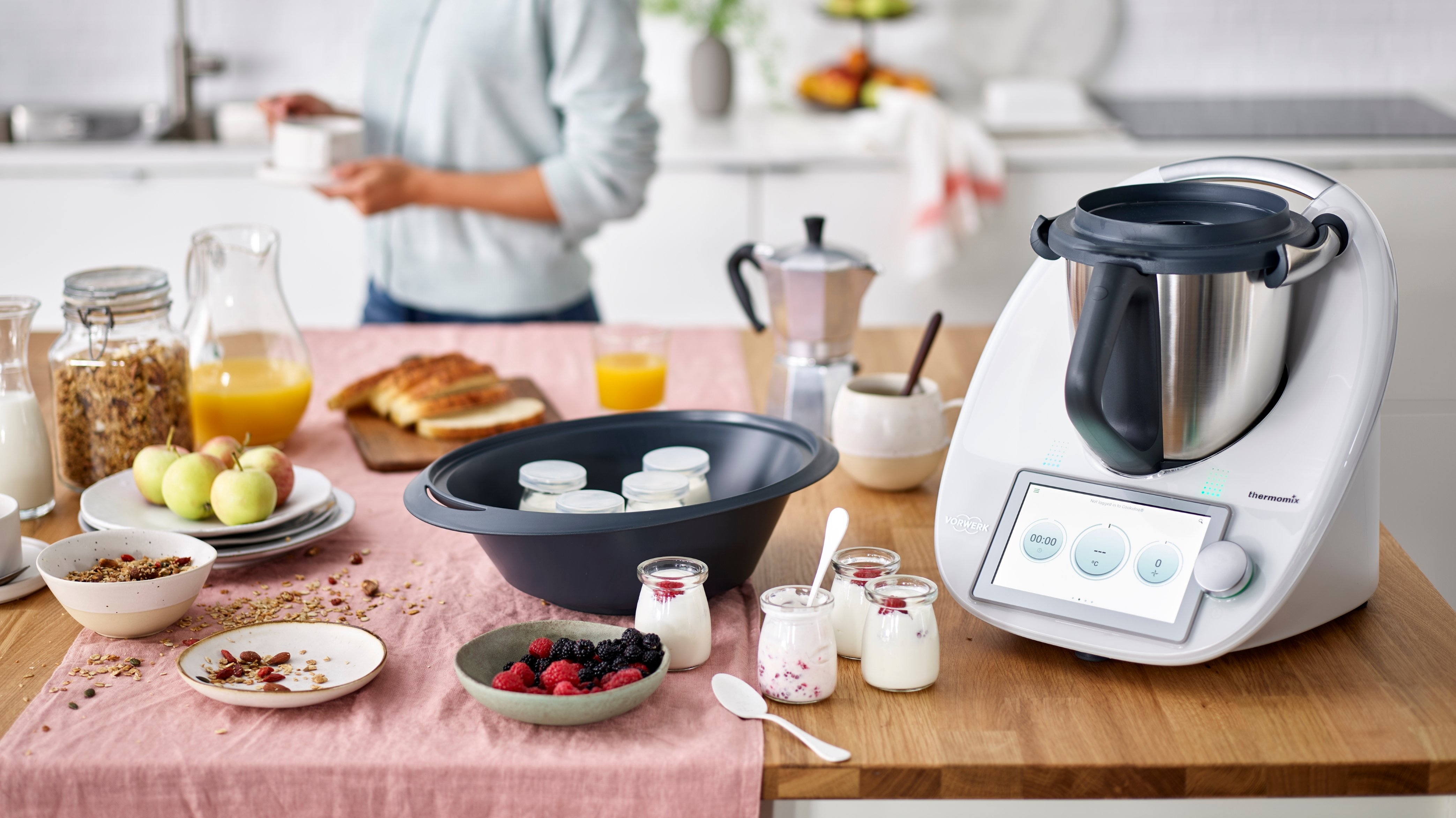 The Thermomix TM6 on display during a delicious-looking breakfast (image source: Vorwerk).

Embedded projection screens
Whirlpool showed projection screens at the 2014 Consumer Electronics Show (CES) and IKEA trotted them out in 2016, but it's Bosch who jumped way ahead of this curve at last year's IFA with a new gadget called the PAI. PAI stands for projection and interaction, and is a projector that casts a full-colour touchscreen display directly onto the kitchen countertop. It features a variety of apps – everything from recipe guidance and smart home control, to email and Flipboard. The best thing is that users don't have to worry about smudging anything with fingers covered in flour, other than the counter itself.
Michael has yet to see projection systems in widespread roll outs but thinks it's a future trend that could give old appliances a facelift.

Further in the future...
As future generations of computer-based systems become increasingly robust, Michael believes we're going to move beyond voice cues and touch, to facial recognition and eye tracking. While this is in the investigative stage, the idea of cognitive embedded user interfaces capable of supporting inference and reasoning is not an entirely new concept. But it will certainly keep the kitchen interesting.


The Thermomix TM6 (powered by a Crank Storyboard UI) showcased in a smart kitchen [image source: Vorwerk).

We'll be in Seattle at SKS 2019 from October 7-8, as a premier sponsor along with many of our fabulous customers, Vorwerk and GE Appliances. Please drop by and say hello if you're at the show!