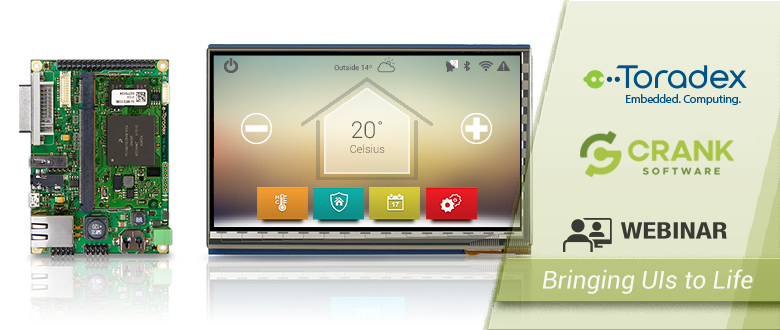 Here's a simple question: When it comes to building embedded UIs, who comes first - the designer or the developer?
The "right" answer is both. By treating them equally, both types of people can work together to create UIs that are beautiful, functional, and perform on whatever embedded targets you have. With Storyboard Suite, designers and developers work in a single, unified workspace, allowing each one to create, customize, and validate UIs without any barriers between them.
And in our Bringing UIs to Life webinar, hosted by Toradex, we demonstrate exactly how you can do it.
How to bring designers and developers together
"The job of embedded systems now is to figure out how to come closer to meeting expectations of strong, compelling user experience."
- Jason Clarke
The key to building better embedded UIs is to allow designers and developers to use the tools they already know, provide a common workspace to bring it all together, and ensure the final result is as close as possible to the design.
As this webinar illustrates, Storyboard Suite lets designers bring in their Adobe Photoshop or 3D FBX files, add behavior, and validate it all on either the built-in simulator or real hardware. It's painless and pretty amazing.
Jump to these specific times in the webinar to see exactly how this works:
8:38: Bringing designs to life
38:30: Running an app on real hardware
41:45: Quickly testing out a design update
45:40: Comparing differences between two design iterations
If you're already on board, you can jump right to the Q&A at the end (48:00), where you'll learn the answers to such questions as:
Do you have to flatten the effects or blending layers for import into Storyboard?
How easy is it to create custom widgets?
Can you integrate a Storyboard app with Qt? (Hint: Yes, you can)
If you have a Toradex Colibri i.MX 7 board, download and run our pre-built demo image to see real Storyboard apps in action.
Ready to try Storyboard Suite for yourself? Download our free 30-day evaluation now.