***Now available On-Demand!***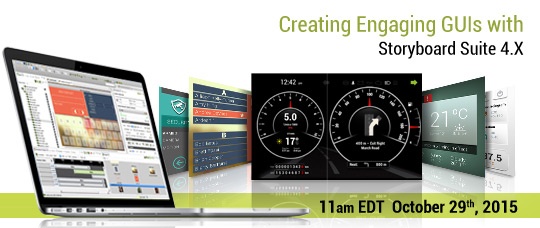 This webinar is now available on demand. To watch or download the recording, register below.


Why watch the webinar? Because everyone loves a good list, here are:
3 reasons to register for the Crank Software Storyboard Suite 4.x webinar for GUI design
You haven't used Storyboard Suite. Yet. What? That's sad. If you haven't used Storyboard Suite for GUI design and development for your embedded application projects, you've been missing out on such great features as:

Photoshop import to kickstart your GUI design
Built-in simulator for prototyping
Animation Timeline to quickly and easily create and edit animations

You are using an earlier version of Storyboard Suite. That's awesome. But your design process could be even further optimized with some of the new features and enhancements we've added in 4.0 and 4.1, for example:

Support for collaborative, team-based design and development
Improvements to the Storyboard Designer UI for a more intuitive and streamlined workflow

You already use Storyboard Suite 4.x but are hungry for more information. You might already be a Storyboard Suite 4.x champion, but you:

are curious to see if you've been missing out on features you aren't aware of
want to ask questions to our ever-enthusiastic VP of R&D
are excited to find out what we've been working on lately
Whether you've never used Storyboard Suite for your GUI design projects, or you are a long-time Crank customer, our October 29th webinar will be useful for you. If your job description includes designing GUIs for embedded devices, building applications for the IoT, or creating awesome user experiences for stuff with screens, you should attend. We promise not to assault you with slides. After a quick high-level overview of Storyboard Suite for those new to our software, we will dive into some engaging demos of the tool suite.
If you haven't had a chance to use Storyboard Suite yet, feel free to download the fully functional free 30-day trial.

See you on the 29th!