Embedded World – the embedded community's global platform is just a few days away, featuring three days of vendor exhibitions & speaking sessions. The conference covers all aspects of embedded system design, development, and application, such as technologies used to develop GUI applications for embedded devices. 
Here at Crank headquarters, we are getting everything all packed up for this year's event and looking forward to discussing everything related to embedded GUI and its development process, from the latest trends to the best designs at Hall 4 Booth 651. After two years of online events, we are looking forward to seeing everyone in person.
What we have in store for you at Embedded World
From June 21 to June 23 (Nuremberg, Germany), Crank will showcase Storyboard, the rapid GUI design and development framework that accelerates embedded GUI development, helps developers embrace GUI design change, and maximizes GUI flexibility. It provides product teams with a streamlined, parallel workflow enabling them to work collaboratively when creating user interfaces which ultimately helps companies to get to the market faster.
These features allow top brands such as Aptera, Emerson, Vorwerk, Bosch, and others to create award-winning embedded user interfaces with Storyboard.
Interact with Specialized Demos! Get Access to Proven Partners
From MPUs to MCUs, and a wide range of embedded OSs, Storyboard helps embedded teams create sleek high-fidelity graphics more efficiently. Its unique architecture optimizes runtimes for custom hardware, so performance is always optimal. Highlighting these optimal and high performances, our GUI development experts will showcase several interesting demos at the Booth and success stories showcasing our partners' boards like the STM32H745I, STM32MP1, i.MX RT1170, i.MX RT500, Toradex Torizon, and AM62x.
So, you can witness the success stories of big brands who have worked with us.
At Embedded World, our experts will be happy to answer your queries and guide you through the GUI development process of your embedded product, which will help you deliver UX based on a rich, high-performance GUI - even on resource-constrained MCUs.
We encourage you to take advantage of this opportunity to schedule a consultation in advance with our experts at our booth.
Get a Sneak Peek of our Next Release
Stopping by our Embedded World booth, you'll be among the first to get an intro to our upcoming Storyboard product release. The new features include new ways to gain insights that can help with UI development decisions and elevate workflows.
So, in case you are facing any difficulty with your product GUI development, you get a chance to eliminate your UI/UX development roadblocks and ask questions answered by our embedded GUI experts.
Guest Speaker Session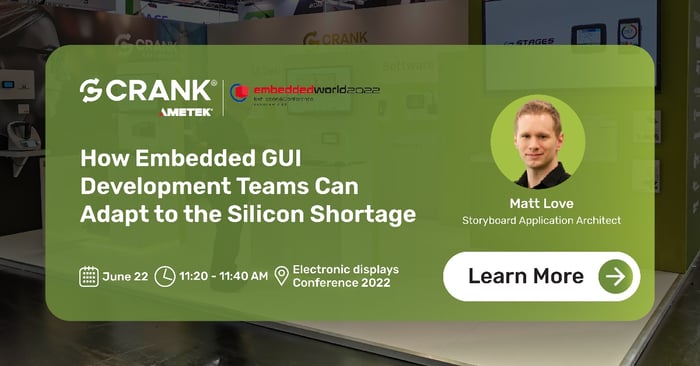 On June 22nd (Day 1 of the Electronics Display conference / Day 2 Embedded World), Crank's Matt Love, will be discussing - How Embedded GUI Development Teams Can Adapt to the Silicon Shortage.
Due to the current semiconductor supply crisis, embedded OEM teams struggle to meet market demands. This paper explains how embedded GUI teams can use this opportunity to rethink processes and tools without hardware, shifting towards adaptable software architectures that decouple development from supply chain instabilities.
Amazfit GTR 3 Smart Watch Giveaway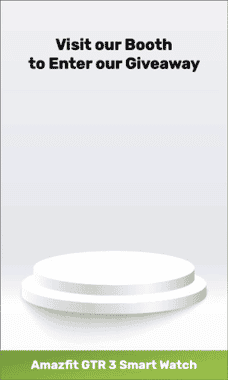 Visit us at our booth for a demo ( Hall 4 Booth 651 ) and enter our giveaway of an Amazfit GTR 3 Smartwatch developed by Zepp Health. 
Amazfit GTR 3 features smooth animations and a user-friendly UI experience developed using our GUI development tool, Storyboard. This is a fantastic watch featuring a 21-day battery life, an intuitive and easy-to-use Zepp OS, and 150+ sports modes.
So, don't miss this chance! Interact with our Storyboard developers, who can help you get the most out of your GUI development project.
For more information visit our event page