Innovation and technology have radically changed the way we work and live. And we love being at the center of it. Literally. Crank Software's HQ is located in Canada's largest technology park, recognized as a "hotbed of technology innovation" that's impacting the world's future every day. With 500+ companies and 19,000+ tech jobs in the park alone, Ottawa is the #1 most technology intensive city in Canada.

Crank Software doesn't just talk innovation. Crank Software pours innovation into every product update, every meeting and every idea in our day-to-day. Innovation isn't just a buzzword to us. It's our culture. We're not afraid of the unknown, we don't stay quiet, and we love a good challenge. That's why we're so excited to celebrate the risks and ideas that got us to where we are today.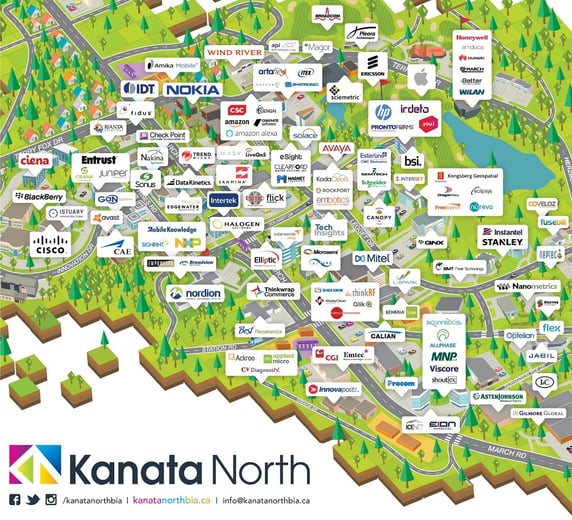 (Credit: Kanata North Business Association, #SeriousTechLivesHere.)
Crank named 2019 Company of the Year at the Best Ottawa Business Awards 🎉
As a top embedded UI design and development partner of global Fortune 500 companies and #1-referred by our hardware partners, we're honoured to be awarded the 2019 Kanata North Company of the Year for the Best Ottawa Business Awards (BOBs). The Company of the Year award celebrates a company that has demonstrated outstanding leadership, strong business financials, excellence in innovation and a dedication to their community and employees. In simpler terms, we won because of our killer product, our amazing team and the incredible trust our hardware partners have placed in us.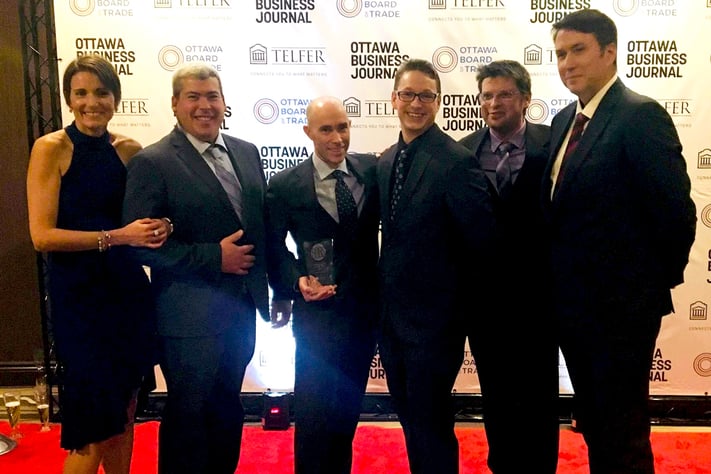 Above: The Crank Software team at the 2019 Ottawa Business Awards.
Our Crank team loves working with companies big and small, from startups to Fortune 500 companies including: Nintendo, John Deere, Coca-Cola and Bosch, to create award-winning UI experiences that exceed customer expectations. The best use the best… right? With Crank Software clients spanning across the world in many industries, the Ottawa community would recognize Crank work in the Coca-Cola touch screens in the Kanata Landmark cinemas and other restaurant chains in town.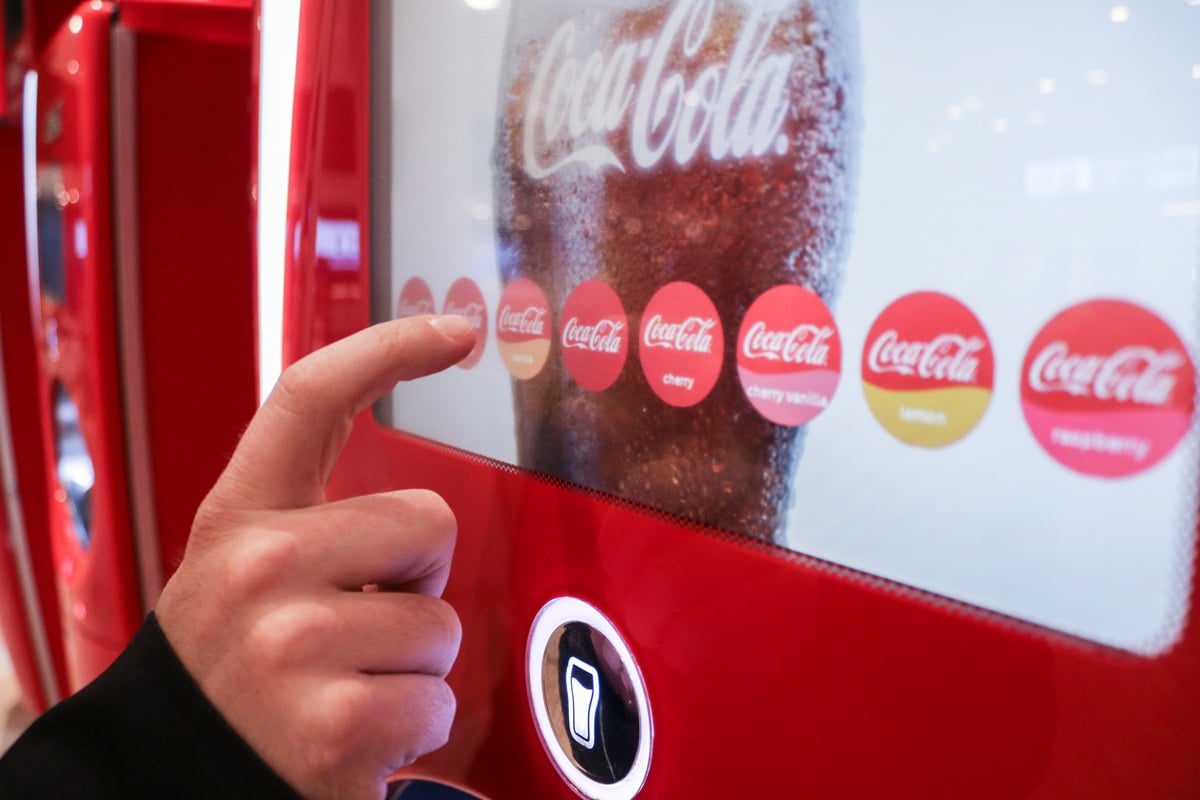 Above: Coca-Cola touchscreen powered by Crank at Landmark Cinemas, Kanata, Ottawa.

"We're honoured to be recognized for our work in helping create incredible user experiences," said Brian Edmond, Crank Software's President and Co-Founder. "Our mission when creating Crank was to make the world of embedded graphics easier. We saw our peers struggling with the process of UI design and development, and found a way to make it more collaborative. The fact that our customer's products are winning design awards is proof we're on the right track!"
Blast from the past with not-so-great embedded touchscreens
Crank co-founders Brian Edmond, Thomas Fletcher, and Jason Clarke were tired of watching manufacturers rush to launch poor-quality touchscreens on their smart, connected devices. The embedded UI design and development process was a huge source of frustration, as teams of all sizes struggled to recreate the smartphone experience that customers expect today, all while delivering on time and budget.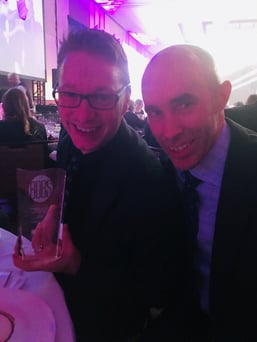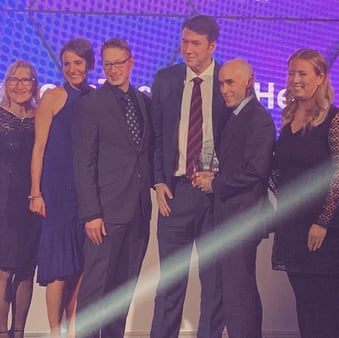 "In our past lives, prior to Crank, we worked in the embedded UI space and noticed a crucial gap. More and more, there was a realization that existing software did not allow graphic designers and embedded systems engineers to work collaboratively together to accelerate projects forward." - Jason Clarke, VP Sales & Marketing and Co-Founder, Crank Software

Brian, Thomas, and Jason knew there had to be a better way and the idea for Crank Software and Crank Storyboard was born.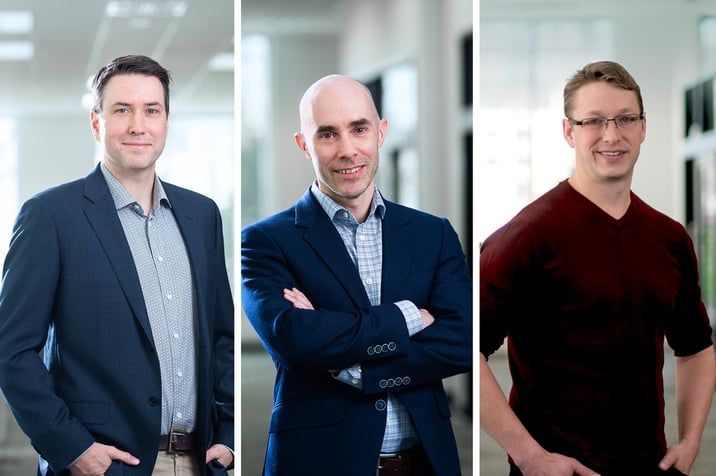 Crank Co-Founders Jason Clarke, Brian Edmond, and Thomas Fletcher.
Crank is ready for the future of embedded UI
Crank Software is considered one of Ottawa's most successful software scale-ups the tech region has seen in a decade. This recognition comes on the heels of more excitement including 2018-2019 Employer of the Year, and a Supplier Innovation Award from customer John Deere for excellence. Two current Crank projects, the Vorwerk Thermomix TM6 and GE Appliances oven range containing Crank Software-built graphics, have recent 2019 Red Dot Award wins. The Red Dot Award is one of the most prestigious design awards in the world, that many of our design-conscious brands strive to win.

VP Research & Development and Co-Founder, Thomas Fletcher, is quick to recognize the many people who have contributed to Crank Software's success over the past 12 years.

"Crank's success could not be achieved without the many smart and motivated Crankonauts who've joined our team over the years. And we're not done growing yet!" - Thomas Fletcher, VP Research & Development and Co-Founder, Crank Software
We give a huge thank you to our team, partners, and clients for their support as we celebrate another year of growth and great ideas. We can't wait to see what's in store for 2020 and will continue making noise in the tech space!
---

Work hard, play hard
Want to get in on the #CrankLife fun? Working with a small, close-knit team means your hard work doesn't go unnoticed. We love what we do and celebrate our wins together. And we're hiring! Join us and enjoy all of the #CrankLife perks.