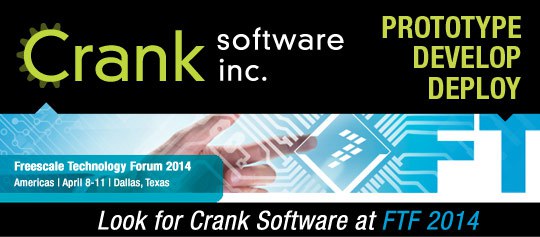 While Spring is working hard to make a comeback here in Canada, Winter is still trying her best to keep us in her grips for another couple of weeks. It's 4 degrees Celsius here today. 39F for our American friends. It's approaching 30 degrees Celsius in Dallas, so we are pretty pumped to be headed to Freescale Technology Forum 2014 next week! Beautiful weather aside, we are excited to take Crank Software on the road and share some cool i.MX-series demos and Storyboard Suite walkthroughs with Embedded Engineers and Designers.
FTF 2014 promises to deliver many opportunities to learn about Freescale's embedded ecosystem and collaborate with engineers to help shape the future of the embedded space.
If you are at FTF 2014, come find the Crank Software team. We'd love to show you how to quickly design and develop stunning User Interfaces for embedded applications. See examples of demo applications we've built using Freescale i.MX-series high performance processors with Crank Storyboard Suite. We love doing live demos to showcase how we can take designs created in Photoshop, import them into Storyboard Designer, and simulate or export a functioning prototype to a target device within minutes. Don't take us at our word though, come and see for yourself!
We hope to be blogging, tweeting, and posting photos from the event, so stay tuned for updates from the show floor in Dallas. If you're attending FTF 2014, we are looking forward to seeing you!
If you don't plan to be in Dallas next week, take a moment to download a 30-day evaluation and try out the Storyboard Suite first hand. For inspiration, check out this sweet Competition Dashboard built by Auto Meter using Crank Storyboard and a Freescale i.MX53 processor running QNX.