The features we envisioned and desired in our cars are now a reality. As you get closer to the car, the car lights up to greet you; once you enter the car, your phone automatically syncs; based on the driver and passenger saved preferences, the infotainment system gives a personalized experience.
Your car's mobile app lets you check whether you have locked your car, closed your car doors, and turned off the lights without budging from your seat.
Now, this may sound far off in the future, but with the power of today's embedded hardware and HMI development tools, these will be the upcoming features in our future cars. Such features are examples of what in-vehicle head-up displays and automotive HMI do - they make driving easier by giving drivers easy access to information without taking their eyes off the road.
HMI in Automotives
HMIs are not a new concept in the automotive industry; automakers have been experimenting with the technology for years now, introducing new functions and features to drivers through in-car touch screens and buttons, push rotary controllers, swipe and gesture functions, and even speech recognition technology in order to provide a safer distraction-free driving while also making the in-car user experience far more enjoyable for driver and passenger both.
With these functionalities, the road to smart vehicles is advancing and as a result, there is a constant increase in demand for personalized in-vehicle digital systems, and connectivity trends such as V2X, predictive maintenance, and OTA updates.
Historically, the automotive HMI has been focused on functionality and safety. But, with the rise in EV (Electric Vehicle) adoption, the EV HMI process must evolve to provide a more intuitive and immersive experience for drivers and passengers, with the ultimate goal of creating a seamless interface between the driver, car, and environment by improving our roads' safety and overall driving experience. Additionally, due to innovations in connectivity solutions, low-cost HMI software, and improved user experience, the demand for new-age automotive HMI solutions has increased significantly in the automotive market.
Why HMIs are becoming more important
The automotive industry is under pressure to provide a better in-vehicle experience for its customers. In response, automakers are turning to HMIs to create a personalized Vehicle interface. It also allows them to create a custom interface for their vehicles that can be tailored to the specific needs of their customers.
There are several reasons why HMIs are becoming more important for the automotive industry:
Customers expect a better in-vehicle experience: In today's competitive market, customers expect high quality and sophistication from their vehicles. Automakers must therefore provide a better in-vehicle experience to remain competitive
Technology is evolving: As technology evolves, how we interact with our vehicles is changing, putting market pressure on OEM manufacturers to integrate high-end features into mid-range and economical cars
Automakers are under pressure to reduce costs: To remain competitive, automakers are under pressure to reduce costs. One way they can do this is by using HMIs to streamline production processes and reduce waste
Safety is a top priority: Automakers and suppliers must design HMIs with safety in mind to mitigate this risk. The goal should be to create a compelling and safe HMI, providing drivers with the necessary information while minimizing distractions

Here are some factors to consider when designing safe HMIs for vehicles:


The layout of the HMI should be clutter-free, intuitive, and easy to understand
Graphics should be designed to be easily seen and interpreted by drivers
Animations and other visual effects should be used sparingly, as they can distract drivers from the road
Auditory cues should be used judiciously, as loud, or sudden sounds can startle drivers and cause them to lose focus.
What is the in-vehicle experience like currently?
The in-vehicle experience is undergoing a significant transformation. The HMIs are designed to provide a more intuitive and user-friendly interface for drivers and can be found in numerous vehicles in the market today.
One of the most notable changes that HMIs have brought about is how information is displayed to drivers. Instead of the traditional instrument cluster with its plethora of gauges and displays, many newer vehicles now feature a digital display that can be customized to show only the information that the driver needs at any given time. This reduces distractions and makes it easier for drivers to find the information they need quickly and easily.
Another area where HMI has a significant impact is how controls are operated. Automakers are planning to take infotainment to the next level with a revolutionary approach to controlling it. For example, a leading automobile manufacturer is planning to introduce a floating crystal ball through which you will control your future car's infotainment system.
This will allow for a cleaner and more streamlined design, making it easier for drivers to control all the functions of their vehicles without taking their eyes off the road.
HMIs are also starting to play a role in enhancing vehicle safety features. For example, some vehicles now offer features like ADAS (Advanced Driver Assistance System), passive and active safety systems designed to minimize human driving errors and improve the driver's performance. ADAS uses sensor technology in the car, which includes radars and cameras, to perceive the world around it and then either provide information to the driver or take automatic action based on what it perceives. ADAS is the first step toward realizing autonomous vehicles; we'll see even more transformative changes in the automotive HMI landscape in the future.
How will HMIs evolve as electric vehicles become more prevalent?
The future of automotive HMIs looks promising, as there are seemingly endless opportunities in the automotive industry. In the long run, two trends will continue to drive the automotive industry forward: electrification and connectivity.
Due to the enormous carbon emission and greenhouse effect, some countries may plan to completely ban the sale of diesel cars, leaving electric vehicles with no competition.
Globally, more than 10 million electric cars were on the road in 2020. According to the Net Emissions by 2050 Scenario (IEA, 2021), this number will rise to 300 million by 2030.
As a result of this transition, a new concept of Dynamic HMI for Electric Vehicles is introduced, which focuses on improving EV efficiency in terms of energy consumption and range distance. A dynamic interface can adapt to user or system needs and change in response to EV battery charge or distance to the desired destination.
Apart from the electrification of vehicles, connectivity through technology is another factor contributing to the race to build future automobiles. Over the past decade, the automotive industry has introduced several connectivity features, such as digital screens and external platforms like Android Auto and Apple CarPlay. However, the automotive industry is still seeking innovations. And it's evident that Automotive connectivity will be expedited by the continuous integration of 5G, the Internet of Things, and AI.
Here are some of the ways that HMIs will be changing the automotive landscape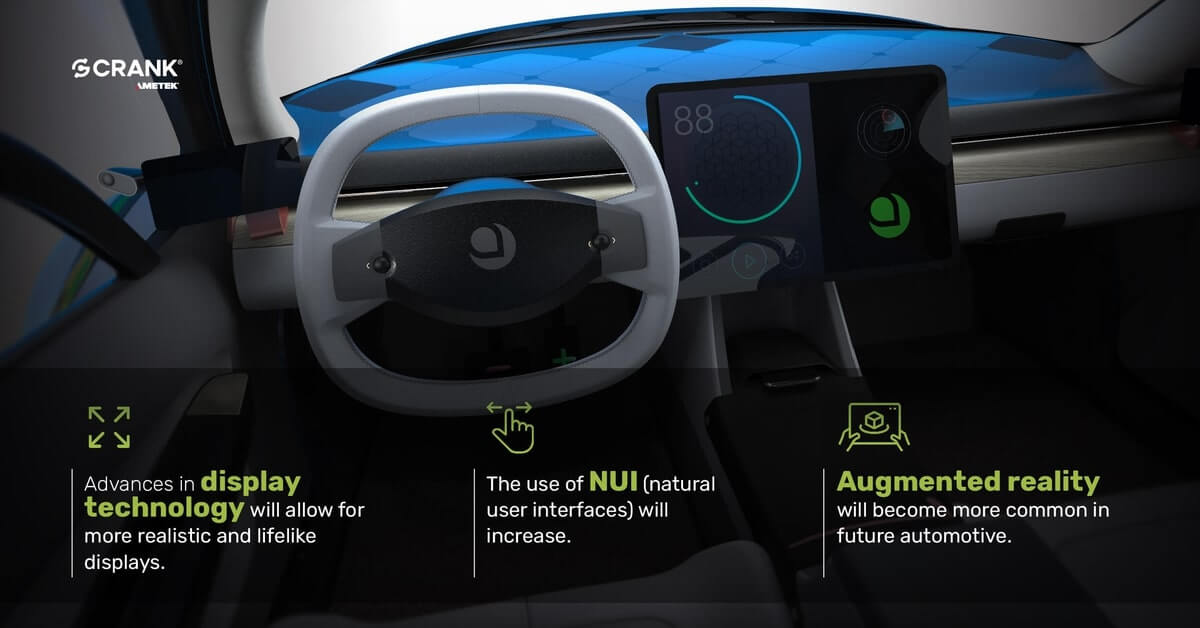 User interfaces will be more natural and intuitive: The trend towards natural user interfaces (NUI) is already gaining traction in many industries, and automotive is no exception. NUIs use gestures, voice, and other input forms to control devices and applications, making them much more user-friendly than traditional interfaces. This trend will continue as automakers strive to make their vehicles more user-friendly.
Displays will be more realistic: Advances in automotive and EV display technology will allow for more realistic and lifelike displays. This will enhance the in-vehicle experience by making it easier for drivers to understand visual information displayed on screens.
Augmented reality will become more common: Augmented reality (AR) technology allows digital information to be superimposed on the real world, viewable through a windshield or head-up display (HUD). This has several potential applications in automotive, such as helping drivers find their way, providing information about traffic conditions, or displaying vehicle diagnostics data.
Key features of automotive HMI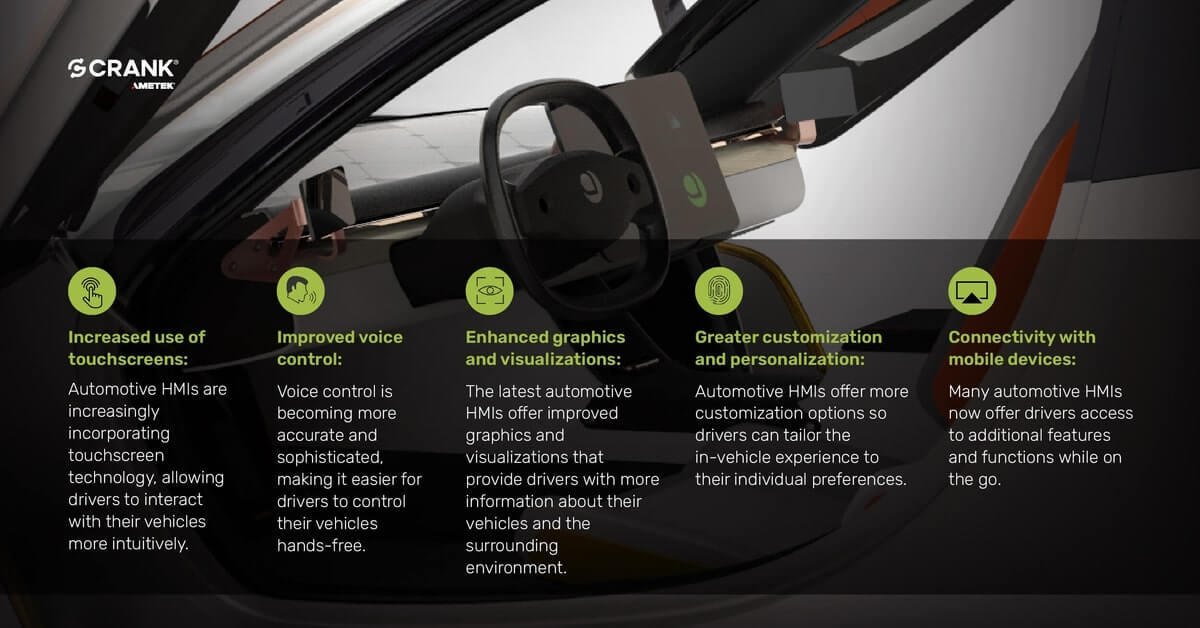 Increased use of touchscreens: Automotive HMIs are increasingly incorporating touchscreen technology, allowing drivers to interact with their vehicles more intuitively.
Improved voice control: Drivers can now control their vehicles hands-free with improved voice control thanks to its increased accuracy and sophistication.
Enhanced graphics and visualizations: Drivers have access to improved graphics and visualizations in modern automotive HMIs, which provide them with more information about their vehicles and the surrounding environment.
Greater customization and personalization: Modern automotive HMIs offer drivers various customization options, enabling them to tailor the in-vehicle experience to their preferences.
Connectivity with mobile devices: The latest automotive HMIs now offer drivers access to additional features and functions on their mobile devices.
Create vivid and feature-rich experiences with Storyboard
OEM manufacturers must deliver innovative digital instrument clusters, driver information displays, and in-vehicle infotainment systems to meet rapidly evolving consumer demands. Using the Crank AMETEK user interface development framework to plan, prototype, and perfect a customizable, multi-function LCD gauge display can help meet this requirement.
Storyboard is a set of UI development optimization tools for embedded dynamic graphical displays that allows parallel UI design and embedded programming. The Storyboard Designer module enables users without programming experience to design user interfaces drag-and-drop and import graphics from Adobe Photoshop. Meanwhile, embedded engineers who program the UI functionality use the Storyboard Embedded Engine module as the runtime framework for interpreting and executing the graphical user interface.
Brands like QNX, Aptera, and AutoMeter use Crank's Storyboard to prototype, develop and deploy a graphically rich UI for information displays and in-vehicle infotainment systems. This is because of all automotive GUI and HMI tools; Crank Storyboard is the only platform that brings designers and developers together, treating them as equals to design rich, intuitive in-vehicle experiences without sacrificing resources or performance.