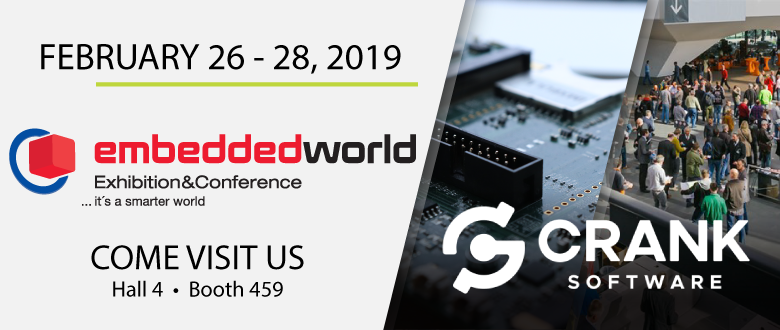 With the abundance of innovative technologies for embedded product development on display, Embedded World is one of our favorite events of the year, and we are prepping for a busy and exciting show.
If you are at Embedded World, visit Crank (Hall 4, booth 459) and talk to our experts about:
How to reduce BOM costs with Storyboard Lite
How to reduce power draw with hybrid rendering on the i.MX 7ULP
Getting a live demo of pre-release of Storyboard 6.0
Who's using Storyboard to get to market faster
Reduce BOM costs with Storyboard Lite
Storyboard has been helping customers build rich, animated GUIs on microcontrollers such as NXP's i.MX RT series, STM's STM32Fx, and others for many years. What's changed with the introduction of Storyboard Lite is that it further reduces resource requirements to allow our customers to save on platform costs by excluding external memory controllers in many cases.
Storyboard Lite still utilizes the same beloved GUI development environment that Crank is known for but now allows customers to take their designs to new depths.
Reduce power draw with Crank hybrid rendering
Power draw and battery life are critical for many embedded devices, in addition to delivering remarkable user experiences. To provide the quality demanded by today's consumers the use of a 3D GPU is required, but this comes with the cost of utilizing more power. With Crank's new hybrid rendering on the NXP i.MX 7ULP, your GUI can automatically switch between using different rendering backends depending on the requirements of the application at any given time. Use the 3D GPU when it's required but fall back to using the more power-friendly G2D rendering when it isn't, and save between 30% on power utilization without any extra effort. Come and talk to us about it!
Get a live demo of the pre-release of Storyboard 6.0
Be one of the cool kids and be the first to get a look at Storyboard 6.0. Our development team has once again been hard at work adding new features and streamlining the workflow for designers and developers. At Embedded World we will be using and showing off the latest features targeted for our release this Spring, including:
the ability for designers to better see design states, allowing you to visualize different modes of your interface
visibility into live metrics on memory usage as you build your UI, giving you instant feedback on how your design decisions affect performance
translation automation for a streamlined internationalization process for a global market
See who's using Storyboard to get to market faster
Every year more and more customers are discovering how using Storyboard gets them to market better and faster. This year is no exception, and at the Crank booth, we will be showing in-market products from multiple fortune 500 companies. Some of the highlights include customers in the home appliance, beverage dispenser, and wifi thermostats markets, and more!
Book a meeting at Embedded World
Come visit us! We are friendly Canadians with a love for embedded technology. We'd love to talk to you about GUI embedded development.