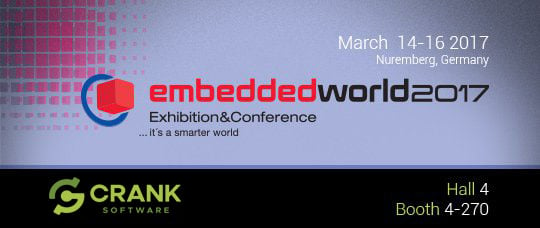 Join us at Embedded World 2017 in Nuremberg, Germany, March 14-16, to experience the latest and greatest in innovative embedded technology. It's always an exciting show and we will be there again this year with a booth filled with embedded application UI demos built in Storyboard Suite across a number of platforms. Our passionate UI design professionals will be on hand to showcase the latest features and capabilities in Storyboard Suite, our development framework for building beautiful UIs for embedded systems. If you are at the show, stop by Hall 4/4-270 to say hello and check out demo applications we've designed. While there, ask us to show you what's new in Storyboard Suite for 2D and 3D artists and embedded systems developers.
Interact with Storyboard GUI demos on Embedded Hardware
Hardware. We are bringing so much hardware.
We know that embedded teams want to be able to interact with real demos instead of watching edited videos and listening to us boast about features. Our booth will be brimming with multi-market Storyboard demos on a number of platforms, including:
Our UI demos this year cover a wide range of markets, including automotive, home automation, white goods, medical devices, and kiosk solutions. All demos have been designed and developed in Storyboard Suite, using the latest features from our upcoming 5.0 release.
In addition, you'll find Storyboard demos in other booths at the show, including NXP (Hall 4A/4A-220), Embedded Artists (Hall 4/4-544), Toradex (Hall 1/1-639), EBV (Hall 3A/Stand 229), TQ-Systems (Hall 1/1-578), and VeriSilicon (Hall 3/3-510).
Follow us on Twitter to see photos and videos from the exhibition floor throughout the week.
Hear us Speak!
We are fortunate to be speaking at Embedded World this year, so reserve some time on March 14th to learn more about our thoughts on and approaches to UI design and development for embedded systems.
Speaker: Thomas Fletcher, VP Research & Development, Crank Software
Time: March 14th, 5:00 - 5:30 PM
Presentation: Keep Designers in the Driver's Seat and Build Better User Interfaces
Check out Storyboard Suite 5.0
We are getting set to release Storyboard Suite 5.0 and we are excited to show off the features and capabilities we've added for embedded UI design teams. Stop by the booth ask to see it in action.
To learn more about what to expect in the Storyboard Suite 5.0 release, check out our recent webinar, now available on-demand.
If you want to get together with us at Embedded World, please contact us to set up a meeting. Alternatively, just drop by our booth and chat with us. We are friendly Canadians and we'd be happy to talk with you about embedded UI design and maybe hockey and cold winters.
As always, we provide a full-featured 30-day evaluation for you to try out Storyboard Suite first hand.
See you at the show!