Whether it's commuting to and from work, chauffeuring the kids to hockey*, or running errands, we spend countless hours driving on a daily basis. Fortunately for those of us who feel like we live part-time in our cars, technology is evolving at a rapid rate to enhance the driving experience and to allow us to connect with our vehicles more seamlessly and safely.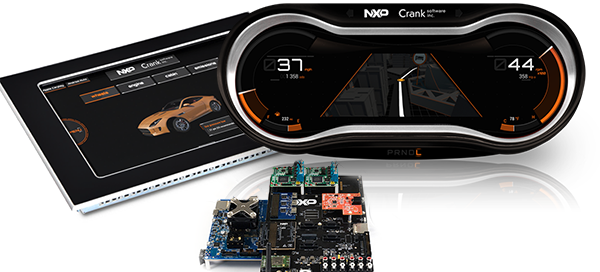 If you were at CES last week, you might have noticed a few automotive HMI demos at the show. Every year we see stunning innovation in automotive technology and new features that inspire consumers to hand over their money. (No flying car yet, however.) This year was no exception. CES 2017 showcased the coolest automotive HMI technology from the biggest automakers to small, low-cost suppliers, and everyone in between.
Keeping up with such a fast-growing and ever-changing technology and meeting consumer expectations isn't an easy feat for automotive HMI design and development teams. Consumer expectations are high. Take a look at your smartphone. Impressive graphics, right? You have a powerful mobile computer that fits in your pocket. It's a navigation system, audio/video player, and communication device that's available to you when you need it. We've come to expect these same capabilities to be available to us on demand when needed, even in our cars. And we expect them to look great.
So how do teams deliver graphically stunning, connected, responsive, feature-rich automotive HMI experiences? Development teams need a high-performance and reliable processor that can support rich graphics, display to multiple screens, and handle a variety of inputs, such as the NXP i.MX 8. Making high-performance hardware look great and delivering an intuitive user experience is the job of the UI development framework. What consumers see on their car screens is the graphical representation of all of the information and data available to them, from their digital instrument cluster to their in-vehicle infotainment and entertainment displays.
Making Automotive HMIs that meet consumer expectations
It can be challenging for teams to deliver beautiful, user-friendly, and safety-conscious graphical content to a range of automotive displays. They need tools that support the following:
Design-centric - Design and user experience are critical to automotive HMIs. To achieve a high-quality design aesthetic and intuitive interaction, it's critical to keep the designer in control throughout the development process.
Collaborative Workflow - Automotive HMIs are often built by teams, not by individuals. The software processes and workflow should support that.
Design Change - Iterative design is a reality. From minor tweaks to major updates in artwork, changes can, and should, happen. If it's painful to iterate the design, it's more likely that design compromise will occur.
Embedded Focus - Hardware for embedded displays has unique capabilities and constraints. The UI development software should have a focus on embedded.
We built Storyboard Suite with these requirements and others in mind. With our vast experience in the embedded marketplace and our focus on making Storyboard Suite feature-rich, yet user-friendly, many companies choose Storyboard for their exciting HMI projects.
Speaking of exciting HMI projects...
NXP showcased a distributed eCockpit and Infotainment at CES 2017 that was built using
Storyboard Suite
for the
i.MX 8
.This impressive multi-screen demo was a collaborative effort by NXP and Crank Software and included the following displays:
Digital Instrument Cluster
Head-up Display
In-Vehicle Infotainment
Backseat Entertainment
Thanks to the powerful i.MX 8, this demo was able to run four high-resolution screens at frame rates up to 60fps off one processor.
Integrating a mix of 2D and 3D content, the team was able to work collaboratively on the applications using Storyboard's multi-file support, and seamlessly merge the project files and iterate the design throughout the lifecycle. The 3D models were created with high-fidelity detail to take advantage of the rich GPU capabilities of the i.MX 8.
#CES2017 Check out distributed ecockpit and infotainment architecture with multimedia components connected over auto ethernet. #DroolWorthy pic.twitter.com/hHNGpYzRoJ

— NXP (@NXP) January 6, 2017
To try Storyboard for your own automotive HMI projects, download a free 30-day trial.
*So Canadian of me