We are attending this years Renesas DevCon. The venue is terrific and the event started with a bang by giving all the attendees a great ravel bag, Jason has decided this is the best bag ever. Yesterday Jason participated in a meet the experts panel discussion on HMI development. The talk was very interesting and discussed the movement towards interactive touch based interfaces on everything from thermostats to mobile devices.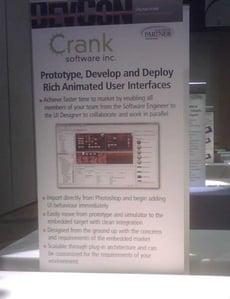 We also participated in the technology fair where we demonstrated Storyboard running on an SH4A platform. There is a lot of interest around user interface development and Storyboard Designer was a big hit, especially the importing of Photoshop files which showed just how easily you can get started with a new interface.
Stay tuned for more from Day 2 ...