Storyboard is coming to a course near you. Crank Software is working with PinPoint golf to create a GPS golf system. Storyboard is used for the user interface and presentation logic. The system can:
Display and track cart position
Give accurate distance to pin and touchpoint calculations
Allow clubhouse communication and food ordering
Server side play tracking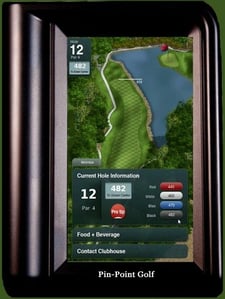 This system is a great example of the use of Storyboard IO which allows external processes/applications to communicate with Storyboard. These processes can get and set data variables, send and receive events from the system. In this system the GPS monitoring and cart tracking is done through an external application which sends the data to Storyboard. The cart is positioned, maps are manipulated and distances are calculated externally. This data is then sent via Storyboard IO and presented to the user. This allowed the user interface to be developed in parallel with the gps logic.