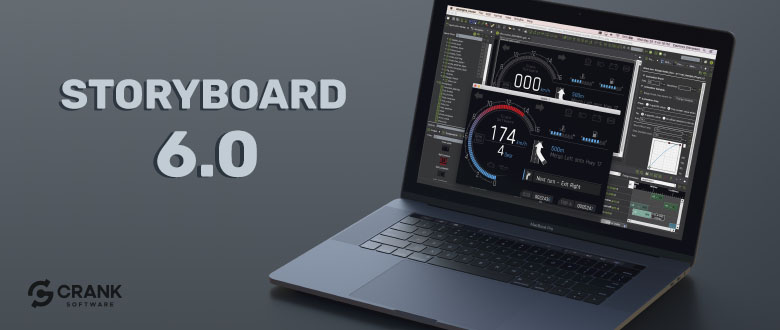 If you're creating applications for MCU platforms and constantly challenged to reduce your costs without compromising performance, then we know you're going to be excited about the capabilities we've added in Storyboard 6.0.
The following video gives a quick overview of the performance-enhancing features we've added to our release that make building remarkable applications of all sizes an achievable reality.
Traditional GUI development on MCUs has been a challenge
Application development for resource-constrained targets creates unique challenges that might not be a concern for high-powered MPUs, including:
Lack of visibility into resource usage - While developing an application it can be difficult to gauge if your application can actually "fit" on your target, making it hard to create an optimized user experience.
High touch screen expectations - Consumers have become accustomed to having beautiful, fast touchscreen experiences as part of their day-to-day life. This reality sets an expectation that is tough to deliver on small target devices.
Embedded GUI development tools that have difficulty scaling down - If your team creates applications for a range of platforms from MCUs to MPUs, it can be frustrating if your development framework and tools aren't able to scale down for deploying to smaller targets. This leaves the team with managing and learning multiple development tools and processes.
Building brilliant embedded GUIs for all products is now easy
Our customers wanted a solution for developing GUIs for small embedded targets, so we set out to help them create applications that are 100% optimized and tuned to be truly impressive for their size. It isn't enough to simply alleviate frustration and create an application that just "fits" on an MCU platform, it has to look great and perform well. Regardless of whether you are developing with tight resource limitations in mind, or just want a deeper insight into your application's footprint while you are creating it, we built 6.0 with your requirements in mind.
Some of the new features and functionality you'll find in 6.0 include:
The integrated Storyboard Lite engine that ensures a reduction in resource footprint
The ability to manage resources with the new Project Metrics view during development, and finely tune deployments with the new Resource Export Configuration
An option to visualize screen modalities at design time with new Design States feature
A new translation workflow for global-ready application development
A standalone compare and merge utility that supports continuous integration and automated workflows
An optimized OpenGL scene graph renderer
So, what does this mean for our customers? With 6.0, you can:
Lower your costs by using hardware you never dreamed you could run on.
Optimize your application to, not just fit, but run smoothly and with impressive graphics.
Create mass-market products with less overhead costs and time.
Use one framework for all of your embedded application development, from MCU to MPU projects.
Now that we've got you as excited as we are, it's your turn to give it a try!
Download our Storyboard free trial today and see just how stunning a display you can create for your next embedded GUI project.