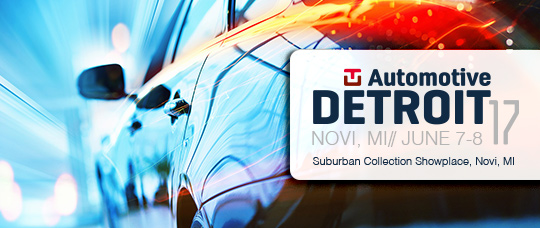 At any given moment last week, the more than 3000 attendees at TU Detroit were talking about autonomous vehicles, safety, and cybersecurity, while in our booth, we spoke to many automotive design and development leaders who wanted to bring it all together within rich, engaging HMIs.
Here are some of the things that Brian and Nik talked about with them in our booth - the current and future state of automotive HMI development.
Good (great!) HMI design is critical for user adoption and brand loyalty, especially now that more connected systems are being fed through a small number of panels in the vehicle
Combining safety with stunning visuals is a big challenge. Brian spent a lot of time with connected car and design leaders in front of our 3D cockpit demo running on the BlackBerry QNX Platform for Instrument Clusters and NXP i.MX 6. Bringing together an ISO 26262 pre-certified platform and a fast, engaging UI built by Storyboard Suite led to some great conversations.
"Engineers go into the dark for two months, then come back with a UI that's ruined my design vision!"
This was a common story from designers and led Nik to demonstrate how Storyboard enables designers to work in Photoshop, developers to work in code, and maintains the vision of both. This short video explains how:
Development leads want to deliver more and do it in less time. This isn't a new concept for software but it is a challenge for automotive teams trying to keep up with new technologies and consumer demands. For HMI development, a major time consumer is design iterations, as versions are built, validated, and adjusted based on user feedback and differences between designer expectations and developer realities. Storyboard helps teams fly through iterations with tools such as Photoshop re-import, graphical comparison tools, and rapid deployment on a variety of targets.
Great HMIs aren't limited to automotive, as vendors asked questions about supporting platforms outside the car, such as smart home devices and wearables. Storyboard supports them all, across a wide range of hardware and operating systems.
We also heard good things about our demo in the Texas Instruments booth, running on Green Hills Software INTEGRITY.
To learn more about Crank Storyboard, check out our latest on-demand webinars.