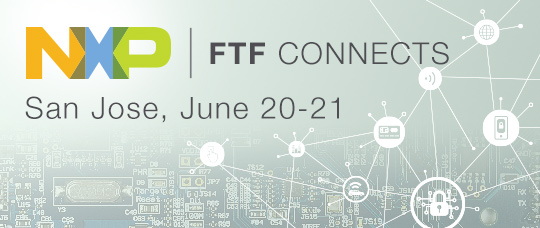 Less than two weeks away, NXP FTF Connects in San Jose brings together developers, thought leaders, vendors, and OEMs for two days of education and inspiration around the Internet of Things (IoT) and autonomous vehicle revolution.
We'll be there to showcase the latest in automotive HMI and IoT user interface (UI) development, including the only platform that lets designers and developers work side-by-side to create amazing user experiences on a wide range of NXP products - Storyboard Suite.
HMI cluster & infotainment demos – see the future of automotive interfaces and just how much you can pack onto today's NXP platforms.
Multi-market demos – whether you're in the medical device, smart home, industrial or consumer/white goods industry, we have the UI expertise and demos for you. You can download them for different NXP platforms here to get a preview of what we'll be showing.
Storyboard Suite demos – think you can build a user interface is less than 12 minutes? We'll walk you through the entire UI creation process, from Adobe Photoshop to deploying and debugging on a real target.
We're also giving a talk on the best strategies to create beautiful user experiences for the IoT.
The GUI of Things: 5 strategies to create beautiful user experiences for the IoT
When: Wednesday, June 21, 10:15 A.M.
Presenter: Thomas Fletcher, V.P. Research & Development, Crank Software, Inc.
Room: Carmel
What: Creating the best user experience for the IoT offers unique challenges, as the "system" consists of multiple pieces of hardware with varying capabilities and users demand the same rich, personalized interfaces that they get on their mobile phones. This session explains why user interface (UI) development for the IoT is different and identifies five ways to evolve development processes to meet current needs for beautiful, engaging experiences that also meet shorter release timelines.
This presentation will cover how the UI designer and developer can work better together, streamlining the addition of animations and behavior, reducing iteration churn, validating designs quickly, and the benefits of encapsulated architecture. It will also include a live demo of Crank Software's Storyboard Suite on the high-performance NXP i.MX series applications processor that pulls all these strategies together.
We're expecting FTF Connects to be very busy, so drop an email to Nick, our intrepid sales manager, to set up a time to chat and see Storyboard Suite in action.