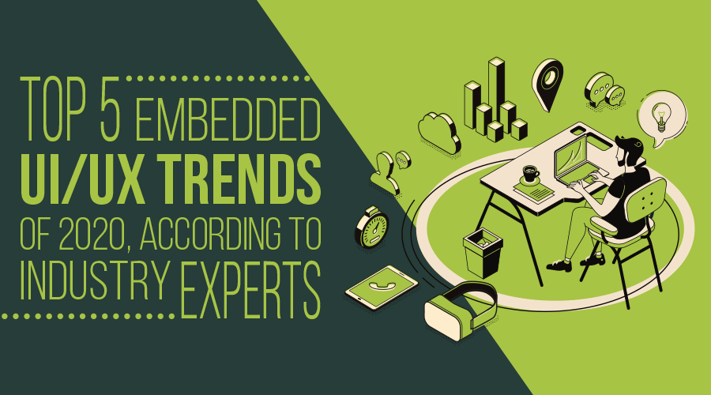 In today's digital world where information is aplenty and attention spans are limited, companies are constantly looking for new ways to engage with consumers. From the first interaction to the remainder of the customer journey, rich graphical user interfaces, and interactive user experiences play a critical role shaping each step. While this may seem like a relatively new concept, it is just the beginning. Six industry experts were asked their opinion on the top embedded UI/UX trends of 2020 and this is what they said.
Note: if you're keen to learn more about the latest in UX trends for embedded HMIs, make sure you check out our on-demand video: "Hello World" for UI designers, How to design for an optimal UX on embedded HMI systems."
Trend 1
Voice Control/Hands-Free Entertainment and Assistance Will Continue to Takeover The Tech World
Patricio Quiroz, Digital Marketer, Code Authority
"Companies around the globe have caught onto the UX design trends of voice control for ease of access."
In recent years, both Amazon and Google specifically have used UX design to change the way consumers interact with their devices in terms of hands-free entertainment and assistance.
"Not only are these devices used for entertainment purposes, but users can also adopt them as a smart home hub. From turning on lights within the home to creating grocery lists and beyond, users can pair their voice device with other smart technologies such as light bulbs and plugs."
"Whether utilizing the devices for entertainment purposes or as home assistance, both Amazon Echo and Google Home offer unique UX design that fulfill the needs and desires of the consumer."


Trend 2
The Infamous "3 Clicks Or Less" Rule Will Be Eliminated
Sam Orchard, UX Designer, Edge of the Web
"Probably the biggest trend of UX design in 2020 is breaking the golden rule of '3 clicks or less.' In the past, designers have been told that users need to get to where they're going in 3 clicks or fewer, but in reality, users don't mind clicking around the site so long as they know exactly what they're clicking for. As long as your site isn't putting up barriers to key objectives with unnecessary clicks, don't panic if your user journey has a couple of extra steps. If your users know what is happening at each step, they aren't going to hit 3 clicks and immediately give up. This is particularly important when looking at mobile design, as it's often much simpler for a user to take an extra click to get to more content, than to struggle with too much on the same page. Because of this, more and more websites are going for additional clicks instead of huge pages. An extra click to a fast-loading page is much more appealing to an engaged user than 3 clicks that take forever."

Trend 3
AR/VR Design Will Show No Signs of Slowing Down
Beck Beach, Lead UX Designer, Mom Beach LLC
"A top UX trend is AR/VR (augmented reality/virtual reality) design. It's impactful because AR/VR is getting more and more popular. We need to make it user-friendly so that it's less difficult to navigate 3D spaces. VR games are becoming super popular and continue to increase in sales every year. If you are a good user experience designer and get involved with AR/VR then you can expect lots of jobs available to you. It's an excellent industry to get into."
In agreeance with Beach, is Marti Romances, Creative Director and Co-Founder of Territory Studio.
"I think with where things are moving towards, augmented and mixed reality in our everyday lives is maybe one of the most exciting things I can think of when thinking of new beneficial technologies. I would say, next level, is then to talk about Elon's Neuralink!"


Trend 4
The Future Is Mobile
Andrew Ruditser, Co-Founder & Lead Technology Coordinator, Maxburst
"One of the biggest UI/UX trends of 2020 is to make sure your website is mobile responsive. Here are some of the newest trends to make sure your site is mobile-friendly."
Minimizing Content: "Content is one of the most important ways to get users to interact with your site. Usually, long-form content is better when engaging with customers and for SEO purposes in order to get your site ranking high on Google. But, since websites have become more mobile-friendly, it is important to keep web content short and to-the-point so users on mobile devices can navigate with ease. Nowadays, people also have a shorter attention span and are looking for information on their phones that can be found quickly. Therefore, the design of short content, big headers (that highlight the main idea so it's easy to locate), and many 'call to action' buttons will allow users to find content much more quickly and easily when using a mobile device, as opposed to long content forms that display unnecessary information."


Optimizing Images: "Make sure your mobile-friendly site operates fast on mobile. It is a fact that the web operates faster on a desktop rather than a mobile device. Therefore, it is important that you make sure you're not using heavy files on your website that will cause your mobile site to slow down. Ensure you resize and optimize images used on your website so they fit the resolution used on mobile. This will increase the speed of your website by reducing the page loading time, which will only leave the user more satisfied."


Establishing Geolocation: "Establishing geolocation has become more popular with the use of mobile devices. As businesses begin to grow and add several locations, geolocation helps customers find your business in their area while searching on a mobile device on the go. By doing so, businesses can increase their local SEO by listing themselves on Google My Business, Google Plus, Google Maps, Yellow Pages and review sites such as Yelp, and professional directories. This will help users find stores, promotions, products, etc. in their area while searching on a mobile device."


Trend 5
Speed and Simplicity are Key
"The biggest trend in UI/UX is all about speed and simplicity. The world seems to be moving faster and, as a result, consumers are looking to do business with companies that make their lives easier. Brands across the industrial spectrum, both online and off, are gaining loyalty by offering quick, easy, and effective experiences that let them take care of business and move on with their lives."

---

It is no secret that it is becoming more difficult to not only capture a consumer's attention but it's even harder to continue to keep them captivated throughout their journey. Considering the above tips in your UI design should allow you to deliver a smooth, standout experience to consumers, that matches the smart experience they are expecting. Whether by eliminating redundant activities with the sound of their voice, having quick and effective online encounters, using a beautiful app, experimenting with AR/VR, and other creative additions in between, these top UI/UX trends are bound to impact consumers worldwide in a positive, engaging way.