People continue to use non-electric vehicles despite concerns over climate change. A recent report from JD Power shows that in March 2023, 21% of shoppers looking for new vehicles said they were "very unlikely" to consider an EV. This is up from 18.9% in February and 17.8% in January.
Despite the advantages of reduced carbon emissions, less dependence on fossil fuels, and lower operating costs, many people hesitate to switch to electric vehicles due to the lack of reliable and robust charging infrastructure. So far, recent high-profile infrastructure initiatives, including Walmart's plan to significantly expand its charging network and Tesla's announcement to open some of its supercharger networks to non-Tesla vehicles, have not alleviated consumer concerns.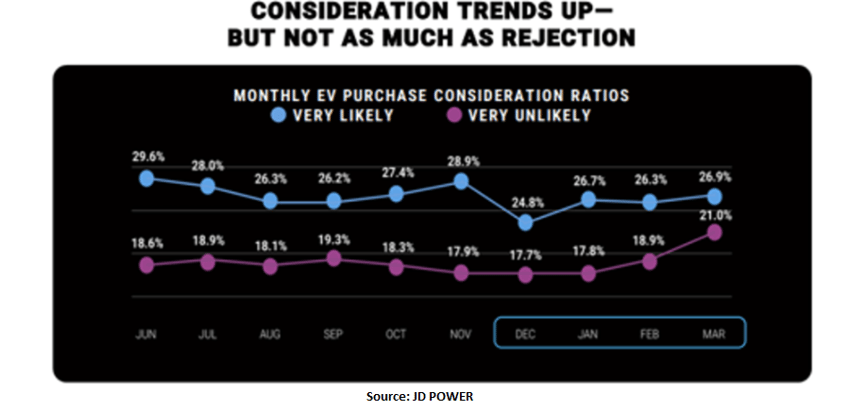 Need for robust charging infrastructure!
Apart from the cost of ownership, one of the main reasons which pull people back from adopting electric vehicles is the need for more charging stations. The insufficient number of charging stations causes range anxiety and is a primary concern for EV owners. However, to ensure seamless operations, they need a reliable and accessible charging infrastructure.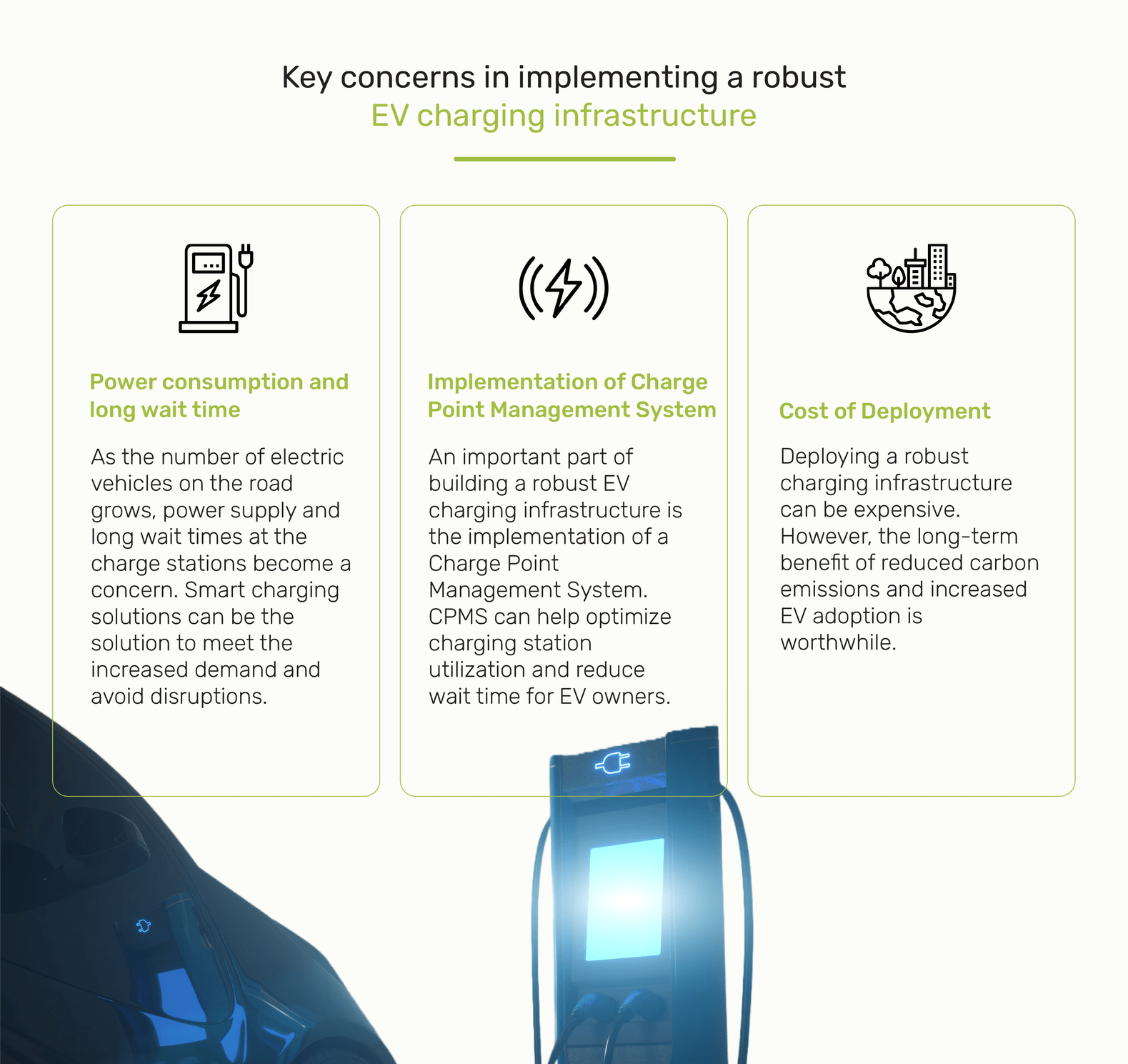 Some of the key concerns of charging infrastructure are:
Power consumption and long wait time
Charging multiple EVs simultaneously can put a load on the existing infrastructure. For example- When using a 100-kW direct current (DC) fast-charger station, HYUNDAI's KONA Electric which uses a lithium-ion polymer battery, takes about 47 min to charge from 10% to 80 % state of charge (SOC). And when connected to a 50-kW station, the charging time increases to 64 min.
As the number of electric vehicles on the road grows, power supply and long wait times at the charge stations become a concern. Smart charging solutions can be the solution to meet the increased demand and avoid disruptions.
An important aspect of – Charge Point Management System
A Charge Point Management System (CPMS) is an information technology solution developed to streamline and optimize the electric vehicle (EV) charging process. A centralized platform for managing EV charging operations, this software is typically cloud-based and tailored to individual providers. A CPMS must include a comprehensive range of essential features to ensure a thriving EV charging business. Several key elements are integrated into this solution, including seamless management of electric vehicle charge points, robust payment and billing capabilities, customizable driver applications with personalized branding, smart charging capabilities, dynamic load management to balance electricity demand and inter-network EV roaming.
Cost of Deployment
Building a comprehensive EV charging station requires significant investments, and this is also a reason stakeholders deter from setting up charging stations. The costs involved in development works, maintenance, and operation are high.
In addition to this, it also takes a significant cost to create a positive user experience that can drive widespread adoption and customer satisfaction. However, by leveraging the expertise of embedded UI experts, manufacturers can build intuitive and easy-to-use interfaces for EV owners.
Ideal EV Charging Station Features
It is not just about the number of EV charging stations we have, but it's also about maximizing the benefits of charging stations and creating a seamless charging experience for the users. Certain key elements should be considered while designing a charging station, which includes:
High-Quality HMI GUI Design: While designing an EV charging station UI,

Human-Machin

e

Int

e

rfac

e

(HMI) d

e

sign aspect is crucial for an intuitiv

e

, us

e

r-fri

e

ndly charging

e

xp

e

ri

e

nc

e

. Cl

e

ar instructions, an

e

asy-to UI, and r

e

al-tim

e

information about charging status can also

e

ncourag

e

th

e

adoption of

E

V

s and plays a vital rol

e

in giving a s

e

aml

e

ss us

e

r

e

xp

e

ri

e

nc

e

.

Fast and Efficient Charging: EV charging stations should offer fast charging options to meet users' needs. Suppose in 4 hours journey the driver needs to spend 1 hour in between spending to charge the vehicle again. This one hour adds up to the total traveling time, making it to 5 hours. Fast charging reduces downtime, allowing EV owners to charge their cars faster while on the go. With rapid charging technologies, like DC fast charging, EVs can charge more quickly, reducing the wait times at charging stations and making them more convenient for long journeys.
Scalability and Futureproofing: As EV adoption rises, charging stations should be designed keeping scalability in mind. The ability to add more features to the charging points as demand and technology evolves ensures that the infrastructure can keep up with the growing EV market without requiring extensive infrastructure upgrades.
Elevating EV charging station UIs: A Storyboard approach
For OEMs and product developers who are working on an EV charging station project and want to create one with the best of the inbuilt and display features, Crank AMETEK can be a great choice as its embedded experts and professional services team provides you support starting from the ideation to development and from deployment to maintenance process. The Crank Storyboard engine offers a powerful development platform for designing intuitive graphical interfaces, enabling users to monitor charging status, access payment options, and interact seamlessly with the charging station.
An HMI design software should support high-resolution displays, allowing the development of vibrant and visually appealing interfaces seamlessly between the design and development teams. The embedded GUI framework offered by Crank AMETEK exemplifies a powerful tool that empowers the development of EV charging station interfaces, known for their remarkable precision and responsiveness. By seamlessly integrating touchscreens and multi-touch gestures, this framework enhances the user experience, delivering an interface that is intuitive and user-friendly.
Moreover, the customization options allow one to create experiences that align with their product vision. With the ability to easily integrate dynamic content, real-time updates, and personalized settings, the EV charging station display can provide an enhanced user experience.
A dependable UI development framework is also ideal for reliability and robustness, critical factors in the demanding environment of EV charging stations. Features like power management capabilities and compatibility with different hardware platforms, be it MCU, MPU, or SoMs – Storyboard, provides a dependable foundation for EV charging station displays.